HOW WE HELPED
The first step of our process was educating the educators.
In order to begin implementing the software and strategies necessary to help Hocking meet their goals, we had to ensure that marketing and sales were aligned and people understood the reasoning and methodology behind the strategic decisions that we were making. In order to accomplish this, we gathered a 200+ person audience composed of faculty, staff, and administration to learn the key fundamentals of inbound marketing and how we could combine HubSpot's tools with a solid education marketing strategy.
The Website Solution

With their marketing and sales strategies in place, we performed a Content Audit on more than 1,700 website pages; identifying broken links, redundancies, and opportunities for improvement and then went to work building a new Hocking.edu website.
Using research on higher education, Gen Z trends/pain points, and continuous testing using heat maps, the entire site was created with the user in mind. What used to be a barely-functioning website is now fully responsive and contains at least two points for conversion on every single page.
The Sales Solution
In order to fully utilize the new leads that were being generated, a custom Deals dashboard was created and optimized for the Enrollment team at Hocking College that allows them Enrollment team to follow the journey of each student.
Working with the enrollment team, we also created custom templated emails and sequences to increase efficiency and productivity so the enrollment team could reach more students with better strategy.
The Content Solution

After 8 months of auditing and redeploying the Hocking College website, we refocused our strategy on content. Creating a steady stream of content was critical to Hocking's online organic footprint. Using a combination of Hocking's internal team and our internal resources, blogs were going out four times a week and traffic and conversions were climbing. The Hocking College Experience Blog now houses over 350 press releases, program information, and general blogs for students interested in attending college and generates 3,000 views a month, on average.
Following the success of the blog, The Career Pathways campaign was launched in August of 2017. This campaign used ebooks and blog posts to promote each of Hocking College's degree programs and drive enrollment. Each ebook was less than 10 pages long and contained easy to read information on each program and its career outcomes.
Using a combination of social promotion, paid advertising, and organic traffic, the integrated campaign strategy distributed the ebooks across a variety of platforms. To date, this campaign has generated over 2,200 leads and over 100 enrolled students.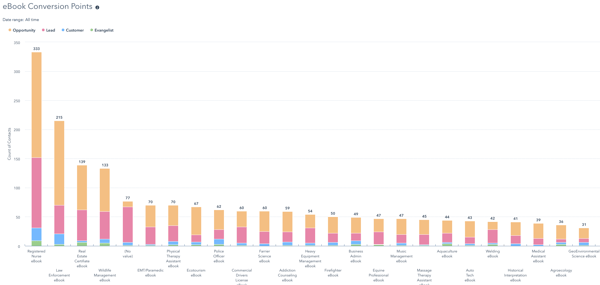 The Advertising Solution
Hocking's organic content was performing incredibly well and we wanted to build on that even more. Alongside that, Hocking was opening 7 new programs that needed fast promotion before the enrollment period for the 2018-19 school year started. We were given a list of 36 programs and their enrollment numbers that Hocking needed to supplement to hit their enrollment goals for the school year. In order to do this, we created a comprehensive Facebook advertising strategy for the "Priority Programs" campaign.
This campaign used A/B split testing to optimize ads with copy, images, audiences, and ad placements to get the most out of the budget and timeline. Over the course of five months, we ran short sprints for each program and promoted the Career Pathways content to generate program leads.