How We Helped
The first step of our process was educating the educators.
In order to begin implementing the software and strategies, we had to ensure that marketing and sales were aligned and people understood why we were making some of the strategic decisions that we were. In order to accomplish this, we gathered a 200+ person audience composed of faculty, staff, and administration to learn the key fundamentals of inbound marketing and how we could marry HubSpot and Education. From there, Hocking College's inbound marketing and sales strategy was launched.
From there, the Hocking College Experience Blog was launched. This is a place where the college houses press releases, program information, and general blogs for students interested in attending college.
To maintain their strategy, NR Media Group has quarterly strategic regroups with Hocking College, as well as monthly program analytics and reporting with insights and strategic recommendations.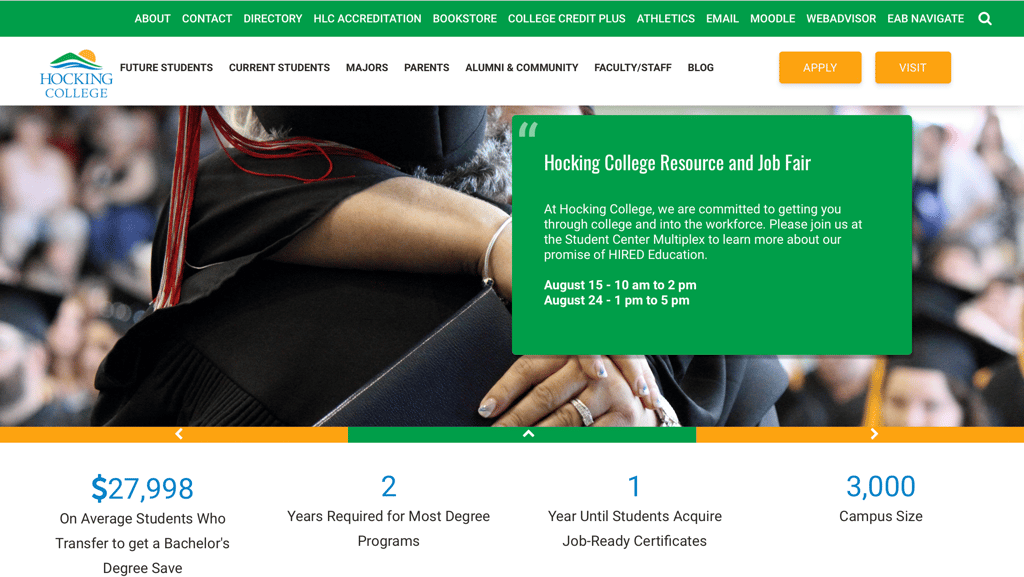 With their marketing and sales strategies in place, we performed a Content Audit on more than 1,700 website pages; identifying broken links, redundancies, and opportunities for improvement and then we went to work building a new Hocking.edu website. Using research on higher education and Gen Z trends/pain points, the navigation menu, as well as key features on each page, were created with the user in mind. Their website is now a fully responsive and search engine friendly marketing website with at least two points for conversion on every single page. Heatmap tracking was enabled on the static website pages for continual optimization through User Driven Design.
In order to fully utilize the new leads that were being generated, a custom Deals dashboard was created and optimized for the Enrollment team at Hocking College that allows them Enrollment team to follow the journey of each student. We also created Custom templated emails to increase efficiency and productivity of the enrollment staff.