How We Helped
To reach 3,000 clinical patients, NR Media Group has been brought on to redesign the marketing program for the health center's clinic from the ground up. Our approach to helping the team at Apicha plan and execute this major undertaking began by employing our unique, collaborative Synergy process for strategy development. During Synergy, our agency team worked hand in hand with the client through a series of facilitated sessions that helped to refine goals, identify audience targets and produce a comprehensive, goal-oriented and measurable content marketing strategy.
As a result of this strategy, our first phase of work was to evolve the brand and market positioning of Apicha to transition them from being perceived as an HIV/AIDS advocacy group to being known as a healthcare provider and clinic. The refreshed brand strategy and logo work to renew their identity and move the word 'Apicha' away from its original meaning as an acronym. The new identity was then launched at Apicha's annual fundraising gala to gain immediate traction with employees, donors and the Lower Manhattan community.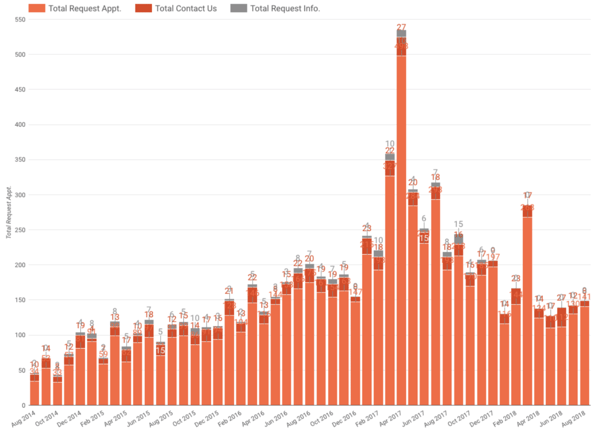 With the newfound brand platform in place, we went to work building a new Apicha.org website using an open source WordPress content management system. This responsive website includes a blog and social media integration and has been configured to be fully HIPAA-compliant. Search engine optimization techniques are employed to ensure that the site is well indexed for relevant local searches and strategically tuned to maximize lead generation.
To support the new website and brand identity, we implemented marketing operations tools including an email marketing system and a social media management dashboard and continue to roll out internal and external marketing collateral. Additionally, a long-term blog content strategy and social media advertising plan were created to help drive traffic and increase awareness. To track the success of these marketing efforts, we utilize KPI reporting and optimization tools to ensure continued effectiveness. Finally, we have helped Apicha in creating a Content Marketing Associate role. We provide ongoing support to assist Apicha with their new content strategy and will work with the new Content Marketing Associate to conduct intensive training and education that will transition them into executing the continuous content marketing marketing program.