HOW WE HELPED
The first step of our process was to redesign the First Alliance Credit Union website. The existing website was not mobile-responsive nor was it optimized for organic traffic. At the time, First Alliance had implemented a short-term marketing solution that was a series of landing pages that addressed the need for responsive design while staying focused on key product sales. All external marketing efforts, such as SEM, display, and retargeting, directed visitors to this website.
In order to build the best website for First Alliance's needs, we conducted an internal content audit, redesigned their sitemap, and built a wireframe for the new site. From there, our team designed and implemented custom templates and creative designs that complimented the company's new branding. We also integrated the new online banking system with the website, and the new site launched in June of 2017.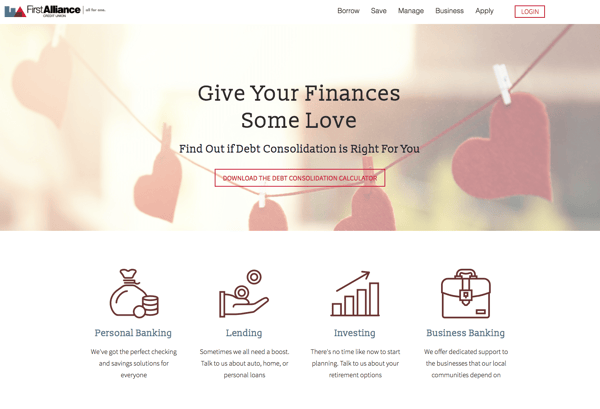 While we were redesigning the website, training their marketing team was also critical to First Alliance's success. In order to help them execute an effective inbound marketing strategy, our team trained the now two-person First Alliance Marketing team on fundamental inbound methodologies as well as best practices and strategic guidelines for content creation and distribution.
In two short months, the First Alliance team was executing a strategic content cadence and social posting schedule. To date, they have over 30,700 blog views and social media has driven over 1,400 sessions on their website. They have also launched several multi-channel campaigns that utilized blogging, email marketing, social posting, and Facebook Live videos to increase engagement and continue to provide financial resources for their audience.