I'm surprised that I've not seen more buzz about a neat little add-on feature from HootSuite.
If you are the presence-building type or have specific things that you want to promote over a long stretch, remembering to schedule those tweets in your daily routine can be tough. It's also time consuming. For most people I know, using Twitter is usually a practice required to fit in between other tasks at hand.
Here's the good news: HootSuite (affiliate link) now offers a bulk schedule feature on pro accounts, and there's a variety of levels available from single users and on up.
Want to learn how to take advantage? Here are some tips you can use:
How To Use HootSuite's Bulk Schedule Feature
Step 1.

Start by downloading the sample spreadsheet. It's really very basic, but will give you the format you need for the various columns. You can also look off the screenshot below. Pay special attention to the format of the dates. If you are using Excel, be careful that the cell doesn't automatically reformat the structure of the date. Initially, I had some trouble with that when I was setting up scheduled tweets for an event I'll be speaking at.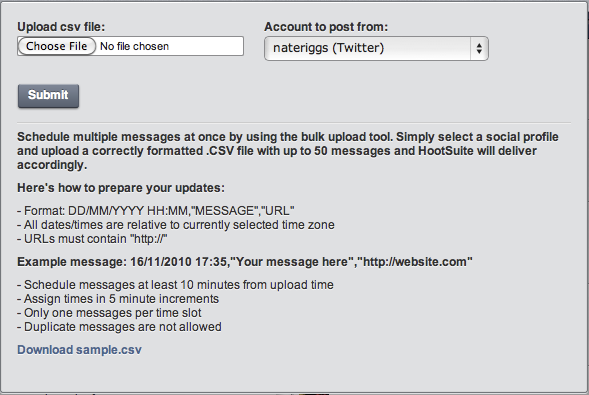 Step 2.
Use your normal entry field in HootSuite to drop in your text. If you plan to use a link, make sure to create a shortened ow.ly URL for the link you want to share. This is important, because HootSuite, like most other social media dashboards, comes ready with a built-in character counter. The last thing you want to do is write your copy in your spreadsheet and have it be over the 140 charecter limit.
Remember that your limit is also going to include the characters for the link, so keep it short. Always leave enough characters for potential retweets (RTs) from your followers too.

Step 3.
Take your tweet anchor text and your link and paste them into your spreadsheet. Make sure to double check the dates and times at which you would like to tweet. It's important to spread them out with enough spacing so as not to annoy your followers or come off as pushing too hard. Nobody likes pushy Twitter folk, right?
Likewise, it's a good idea to change up your anchor text. For this specific event promotion, I'm doing a little A/B testing to see which copy draws more link clicks which is more heavily retweeted by my Twitter followers.
Finally, pay special attention to the times you schedule. The system operates on military time, so keep in mind that 03:15 is actually 3:15 a.m. (yep, that's in the morning and not the middle of the work day).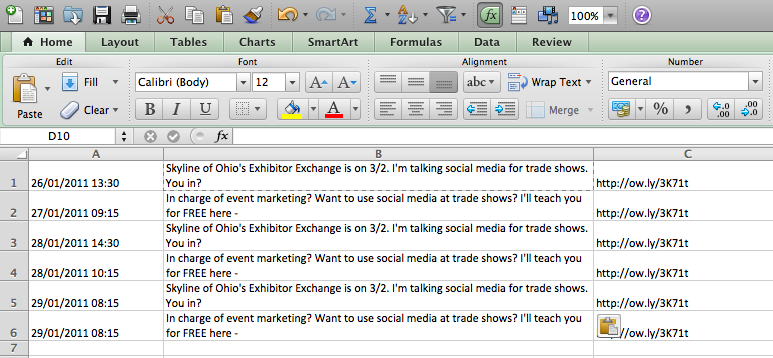 Step 4.
Congratulations! You're almost finished. Once you've completed your spreadsheet, all you need to do is save it as a .csv file and upload it to HootSuite. To get there, remember to click the [schedule message] button, open the calendar field, click [schedule in bulk] and then follow the fields to upload your .csv file.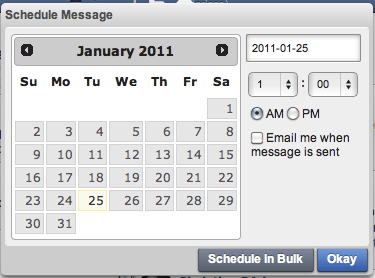 You'll notice that you can select to post from any of the accounts integrated with your HootSuite dashboard, so be careful to make sure that you select the right one.
Oh, one last thing: Your limit is 50 updates at one time, so don't go too crazy.
What Else?
What have I missed? What else do you do when you are scheduling tweets or status updates?