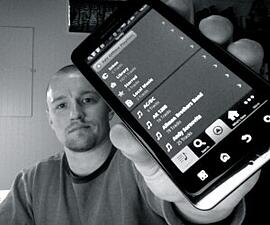 According to the Pew Research Center's Internet & American Life Project, the share of adult cell phone owners who have downloaded an app to their phone nearly doubled in the past two years - rising from 22% in September 2009 to 38% in August 2011. Couple that with Pew's data from a May 2011 survey that showed that 35% of adults in the U.S. owned smartphones, and you have a picture of just how important using Mobile applications are becoming to consumers.
High usage breeds high competition by app developers, as well as the brands who wish to capture consumer attention in the growing mobile and tablet marketplace. It seems like everyone is pitching and buying apps these days.
Utility is The Secret
It wasn't until I started hitting the gym again that I fully appreciated an application like Spotify. It's powerful in that it's a utility that's found a way to work itself into my normal daily routine.
Instagram seems to have taken hold of iPhone users much in same way. Suddenly, app users have become polished amateur photographers, using Instagram to share moments of their life with a bit of artistic flare and the convenience of social connectivity.
You might even lump Evernote into the same 'utility' category. Positioned as an extension of a users memory, Evernote users easily create habits and behaviors in the routines of its user base.
So how have applications like these become engrained in the lives of their users?
There's three key areas to consider that will help you and your company think about your application as a utility, rather than simple mobile brochureware:
1. Focus on increasing the frequency of how often your audience uses your mobile app
Applications like those above have something in common - they stay true to the meaning of the term "application software" - an application or an "app", is simply software designed for helping an end-user perform a specific task.
Taking this to heart, make sure that the app you are developing for your brand or projects serve some type of specific need present in the lives of your target audience. Focusing more on daily audience pain points will drive a customer to use your app more frequently. In turn, more frequent use of your brand's app will drive heightened awareness and memorability of your brand.
2. Ensure consistant up-time with your mobile app
When I first started running a few years ago, I downloaded the iRun application to my iPhone. In training for my first marathon, it was critical that logged my miles and routes after each run. Pencil and paper charts simply aren't my thing, so being a geek I looked for a mobile app that would help me complete this task easily and accurately.
iRun seemed to have all the features I was looking for, and so for $3.95, I downloaded it and setup my account. Two runs passed before I was so frustrated by the crashes that I deleted iRun and moved on to DailyMile.
The lesson here is simple - make sure your app works ... every time ... for every user ... all of the time. Yeah, it's a lofty goal, but in the end, consistency is the critical factor in building sustained user adoption.
3. Build your mobile app to be device agnostic
Spotify does a stellar job with this principle, making their app available on every type of device you can dream up. From tablets, to desktops, to phones, you can take Spotify with you anywhere you go. For instance, as I type this post, I am listening to Bad Boy Bill's "The Album". In an hour, when I hit the gym for a workout, I'll continue listening to the same album on my phone.
The result? Spotify wins and keeps my attention for a very large portion of the day.
When building your mobile app, consider what devices your customers use and make sure to design your app in a way that gives them access from whatever device that may be at the time they have the need.
Do These Apply to Your Mobile App?
You bet they do!
Whether you're a restaurant brand or web design agency, there are things that your customers and target audience need to do that relate to your business. There are ways that you can slip your brand into their lifestyle habits and daily routines by finding pain points and applying mobile technology to solve their problems.
What are your ideas here, or have you already developed an application that does this? Leave a link to yours in the comments and tell us how, okay?