With social
media marketing catching fire as a critical element in the overall marketing tool kit, companies are seeking new and better tools to manage it.
Marketing budgets have drastically increased and new positions have been added, all to help brands evolve online.
Many companies have pushed new kinds of marketing automation and social media management software into the market, all with the end goal to help you convert leads to sales.
---
Read This: How Is Social Media Affecting Our Communication?
---
Social media management platforms have become necessary tool for marketers today. There are multiple SaaS platforms in this category that cater to a variety of different types of companies, but for this post, I'll focus on a deep dive into an innovative tool called Sprout Social.
Sprout is a great platform for companies of any size. Below are 8 incredible design features of this platform that make it attractive. If any of these appeal to you, I encourage you to start a trial and experiment for yourself.
1. Smart Inbox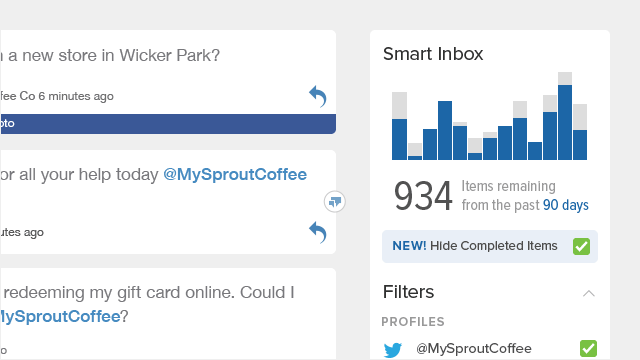 Currently, Sprout Social allows users to integrate their various social profiles from Facebook, Twitter, LinkedIn, Instagram and Google+.
The Smart Inbox feature allows users to combine all messages from the various social networks into one fluid stream.
This makes social monitoring and listening much easier. It also allows users the opportunity to engage and respond to customers on any particular profile.
2. Social Monitoring Tools
Perhaps one of the most advanced aspects of this platform is that it allows the user to input brand keywords to help gain insight into what your audience is talking about. This allows you to tailor your content strategically to help generate leads and progress those leads to the next step in your sales funnel.
Another great monitoring tool that this platform encompasses is trend monitoring. This software will automatically format trend reports based on the performance of each social channel.
3. Customer Relationship Management (CRM)
What is social media management without managing your existing and potential customers? Sprout Social's CRM tools provide users with the keys to quickly respond to issues that arise, resolve support problems, nurture leads and aid in providing a great customer experience.
This aspect of the platform also lets users collaborate with other team members across their organization aiding in increased communication and awareness.
4. Publishing
The publishing tool within Sprout Social enables posts to be sent and scheduled across multiple channels.
A key feature of this tool is that it integrates a "message approval" tool that requires messages to be approved by a chosen member before they can be sent or scheduled out. This helps in preventing editorial issues that could cause your brand to become an unreliable source.
Another feature of this aspect is the platform implements a shared content calendar so that all members from your team have access to all content that is scheduled. This enables users to see where gaps in content may arise so they can plan accordingly.
Lastly, this platform utilizes bit.ly link integration so that users can track and monitor engagement on every post.
5. Analytics
Perhaps the most prevalent advantage this platform has over another management platform such as HootSuite is their analytics software. Unlike Hootsuite, where users are required to purchase different levels of analytics packages, Sprout includes their analytics tools for every level of membership. They are far more advanced than that of HootSuite as well. Below are a few of the social analytics tools they offer: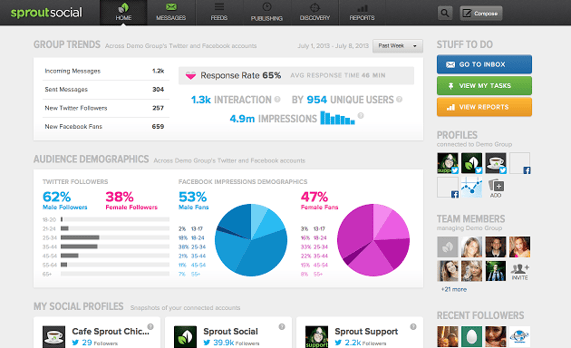 Twitter Comparison
Engagement Report
Team Report
Trend Report
Google Analytics
Facebook Page Performance
Twitter Profile Performance
Group Report (all social profiles together)
This platform has a far more detailed analytics program than any of their competitors.
6. Collaboration
As in any competitive marketplace, collaboration is a huge key to success. This platform allows for easy collaboration between team members due to a number of features.
Users do things such as manage their incoming messages as a team, prevent getting your wires crossed, turn any message (like a customer complaint) into a task, and measure workflow efficiency. This platform is extremely easy to use and collaborate along side your social media team.
7. Account Structure
Does reading this post have you sold on switching your social media management efforts to Sprout Social? This software offers three options in terms of becoming a member.
Small and growing businesses
Full-service and niche agencies
Enterprise corporations
So, no matter what size your organization, this platform can cater to your specific needs. It also offers peace of mind with secure team and client management. Your content and tasks are completely safe. In addition, it allows users to hold only certain levels of access depending on their position.
8. Mobile-friendly
In a world where 2 billion people will have a smartphone by 2016, this platform is mobile-friendly. Users can do almost anything with this platform through the mobile app such as publish and manage content and perform full smart box searches. It is available on both Android and iOS products.
---
There are many social media management platforms available on the market that offer a variety of different features. However, this platform is at the top of the list due to its integration of a variety of tools and extreme usability that all aid in creating and sustaining an ongoing relationship with your audience.
Have an opinion or preference of another social media management platform? Let us know in the comments below, we'd love to hear from you!
---