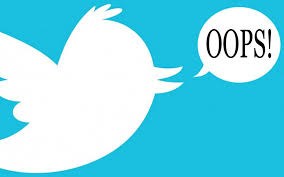 In this day and age, most business owners know the basics for how to apologize on Twitter, but now it's time to learn how to write the perfect apology in 140 characters. When you're apologizing on Twitter, you want to genuinely speak to the original complainant, but you also want other followers to see that you took the time to apologize. Therefore, you must think of two things that really count the most when tweeting: Maximum readability, Maximum retweetability.
1. Get Eyes on It
When writing an apology tweet, one of the most important aspects is making sure that as large as possible of an audience can see it. If you want your entire Twitter audience to see your tweet, do not start a tweet with a username. Instead, write a few words before the username. Here's an example:
[Tweet "We are sorry you had a bad experience @customer."]
With this, you ensure your entire Twitter audience can see you've taken the time to apologize to a customer who had a negative experience, which reflects well for your brand, Also, you now have 92 characters left to use to finish up your apology.
2. Promise a Resolution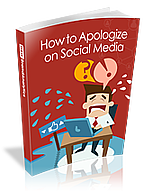 As we've said before, you can't just say you're sorry. You actually need to demonstrate that you're going to take action to resolve the problem brought up by your customer. This is also something we discuss in our Complete Guide to Apologize on Social Media. Some phrases that are show but can get you far with customers could be the follow:
[Tweet "We're fixing this problem and what to offer you a gift upon your return!"]
[Tweet "Let us make it up to you! We're going to get to work."]
[Tweet "We're sharing your feedback with the appropriate team member."]
All of these statements tell your customer you're actively working to resolve their issue while also asking them to visit your business again. They're short, sweet and have active verbs. Additionally, all of these additions leave you plenty of place for step three.
3. Leave Contact Info
Finally, you want your customer to feel like you're speaking with a real person, not just a random Twitterbot. Based on which department is responsible for dealing with this issue, give them contact info:
[Tweet "Email us at marketing@bizmail.com"]
Something this short and sweet ensures you don't reach your Twitter limit but also personalizes your apology. Furthermore, instead of offering contact info, you can simply thank the customer.
[Tweet "We appreciate your feedback!"]
Or ask them to send you a direct message with their contact information so you can have a team member reach out personally.
[Tweet "We'd like to hear more, DM us your email"]
[Tweet "We want to show our progress! DM us your contact info"]
Remember, for the customer to send you a direct message, you need to follow each other. If you're going to use this tactic, make sure you follow your customer on Twitter.
There are many ways to write the perfect Twitter apology. However, you want to make sure you sound genuine and that you actually take action. The goal of a Twitter apology, or any social media apology in general, is to make the customer return. If they return and see the issue persists, you will have lost a customer for good and potentially further damage your online reputation.