At the heart of content marketing is the desire to build a customer-strategy that is formulated by standing in customers' shoes and understanding their experience.
In 2014, the rising trend of the "SoMoLo customer" is moving organizations to evaluate their strategy and reach this important purchasing demographic.
---
Discover why you should be adapting to mobile and straying away from the desktop.
---
What is SoMoLo?

The term refers to a rising group of connected consumers who consult Social media, friends and family before and during purchase decisions, rely on Mobile technology for access to information everywhere, and take advantage of Location-based/Local applications for deals and information.
Take a look at this profile generated by Commerce in Motion and keep reading to learn more: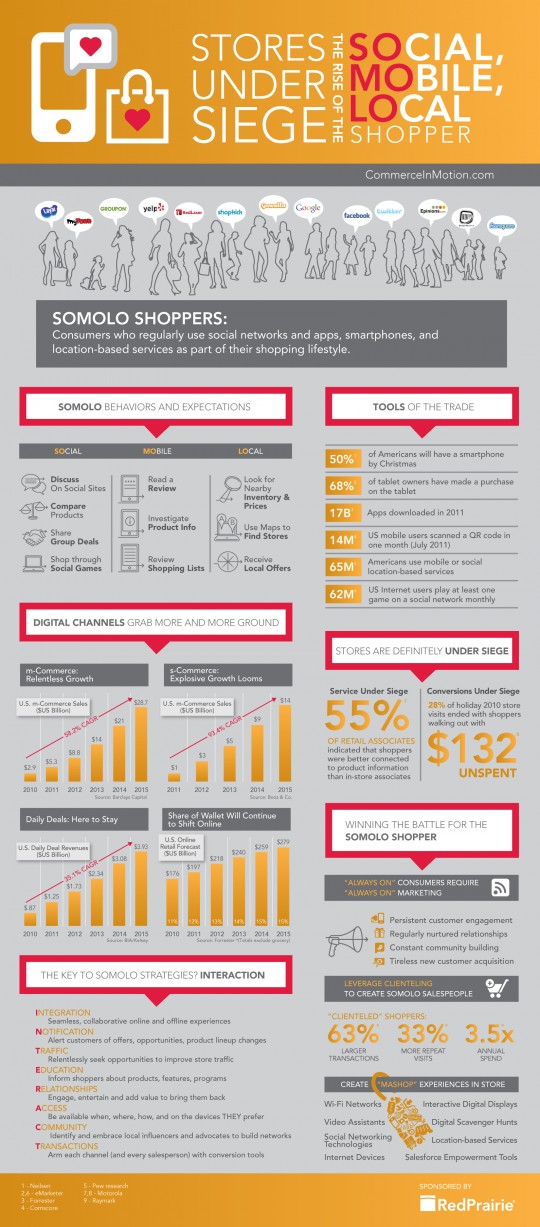 Social Significance
Customers depend on others to share knowledge and experiences as well as learn about products and brands before purchase. They use online media, talk to friends and family, and consult online reviews to compare options and make the best decisions.
According to authors Simonson and Rosen, consumers today are driven to purchase decisions by the impact of prior preferences and experiences (P), information from marketers (M), and input from other people and information services (O).
As the importance of O has grown in recent years, so has marketing strategy. Companies must determine which of their products invite a high dependency on O and market them differently--for example, through promoting relationships that drive positive reviews on online review sites, and by tracking and quantifying customer sentiment on networks.
Companies are even using data to develop Next Best Offers (see above) that are targeted to specific customers at the right time, at the right place, through the right channel. Retail giants like Walmart have even begun to acquire social media companies like startup Kosmix to help them reach customers and implement strategy.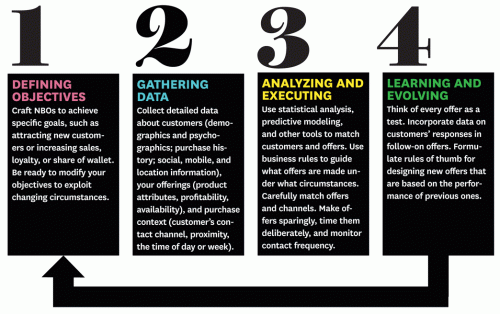 Mobile Matters
As seen in the infographic above, 50% of Americans had a smartphone by Christmas 2012, and this number grows daily.
82% of smartphone owners always have their phone in hand while they shop in stores, and 55% believe that their devices are "indispensable" and make them more efficient. Consumers are constantly connected and can look up product reviews, find in-depth information, and share experiences with the touch of a button.
They also expect deeper integration from businesses. For example, 40% of shoppers expect to be able to utilize QR codes to access content from cell phones, 57% expect discounts sent to their phones, and 46% expect to be able to conduct transactions over phone.
Leading with Location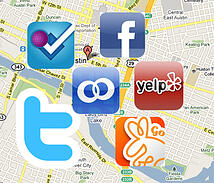 The third piece of the puzzle is Location (or Local, depending on who you talk to).
74% of smartphone users use location-based services like GPS maps, check in on social media sites like Foursquare and Facebook, and utilize local deal applications like GroupOn. And 38% responded positively to SMS promotional messages when they were based on their location.
[Tweet ""74% of smartphone users use location-based services""]
To develop successful strategy in this area, businesses need to utilize at least some degree of analytics. For example, Google has developed Google Now, which runs in the background of users' devices and automatically provides relevant updates on weather, traffic, events, restaurants, and more. The more it's used, the more it learns and provides better suggestions. Similarly, apps like CommutePays and Ride reward users with business perks just for tracking miles during commutes.
Marketing Strategy Implications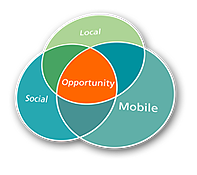 Understanding SoMoLo customers is just the start. To maintain meaningful relationships with customers into the future, businesses will have to adopt new marketing strategies. Here are some ideas to get you started:
Connect with customers online. Track and quantify what they're talking about online and engage with them to drive positive conversation. Remember, the more dependent a product is on O influence, the more importance "social" will have on driving its sales.
Use networks to reveal promotions to customers. Reward loyalty on networkingsites and email subscription lists by offering coupons and deals.
Embrace mobile. Utilize QR codes, offer discounts through SMS or applications, and allow checkout. Interactive digital displays and Wi-Fi are also great ideas.
Utilize a mobile-friendly format for all websites, profiles, and emails.
Encourage customers to "check-in" at stores to gain access to special promotions.
Target offerings to customers in specific locations. Take advantage of analytics to create customer profiles--understand where your customers are, what they like, and how they shop. Then build strategy around those profiles.
What is SoMoLo for Your Business?
SoMoLo is a growing trend that offers an incredible amount of new opportunity for businesses. Companies that are smart will not only invest in understanding their customers, but also in developing new strategies that will provide those customers with the best overall experience possible.
What are some opportunities you can see today for taking advantage of the SoLoMo trend with your customers? Can you share examples in the comments?