Mobile Technology

In this week's show, Nate and Brandon look at 4 articles related to the trend towards rolling out mobile technology in restaurants.
1. Panera 2.0 is being rolled out across the country to improve ordering, but franchisees have voiced some concerns over the launch of the new system.
2. Yelp has announced two big changes to the popular review app including videos and reservations, and it's changing the way Yelp will be seen in the restaurant industry.
You'll get the inside scoop on the new announcements from Yelp as well as the low down on a brand new app reservation technology startup, founded by author, speaker and internet TV celebrity, Gary Vaynerchuck (@garyvee). His twist on pay for play reservations is sure to stir up some controversy among the foodie elite.
Watch the video to check out this week's regular banter.
This Week's Hangout Notes and Resources
Ever thought about paying for a reservation? Ben Leventhal and Gary Vaynerchuk have and they're making the idea public with their new app dubbed 'Resy'. High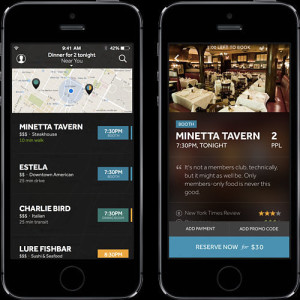 demand restaurants will benefit the most from the application, though it may cause some controversy among those familiar with mobile technology in restaurants. Check out more on what the creators have to say here.
Tune in Next Week
Brandon and I will be back with another episode next week. You can tune in on Thursdays here on my blog to catch the archived recording.
If you'd like to watch and participate in the live Google+ Hangout, we'll be broadcasting at 11AM EST on the This Week In Restaurant Technologies YouTube Channel.