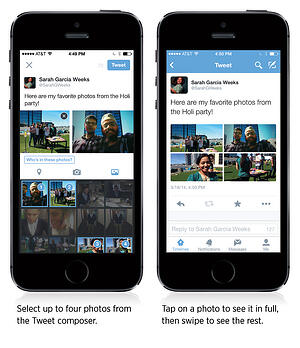 According to Alex Roetter, Twitter's VP of Engineering, "It's rare for a day to go by when we're not releasing at least one experiment."
Well, he's not lying.
In a flurry of activity the past two weeks, Twitter has tinkered with its software once again. This time, unveiling new photo features.
New Photo Options
On March 26th, Twitter unveiled two new features that make photos on Twitter more social: photo tagging and multiple photos within a single tweet. With these two new features, you can now tag up to ten people in your photo and include up to four photos in a Tweet. Even better news: it won't count against the 140 character limit!
[Tweet "Twitter declares "Photos just got more social", but how accurate is that statement?"]
The Psychology of a Share
There are a variety of reasons we share material on social media, but the primary reason is for the entertainment value. Who wouldn't want to share a photo of a smiling grandfather petting an adorable kitten?
Previously, I summarized Jonah Berger's STEPPS framework of what makes viral content. The sociability of a photo relies heavily on the public-facing nature of the social media platform. As Berger says in the video, photos are "built to show, built to grow."
UCLA conducted a study that suggested that "people are regularly attuned to how the things they're seeing will be useful and interesting, not just to themselves but to other people," said the study's senior author, Matthew Lieberman.
Parts of Gestalt Laws apply to Twitter's photo shareability. The new photo options increase their shareability due to their alignment with the Law of Pragnanz and the Law of Continuity. The combination of these two Laws states that the human brain loves simplicity and that we respond well to things that visually align.
To discover additional comprehensive insights, check it this intense review of primary motivations for sharing and essential steps for marketers aiming to get their content shared.
What Do You Think?
Is Twitter becoming too much like Facebook?
How will these new photo options increase the already effective sharability of pictures?