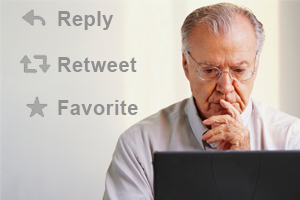 When you're active on social media, you can quickly become obsessed with numbers.
"How many followers do I have?"
"How many retweets did that tweet get?"
"C'mon, people, FAV THAT!!"
Now, two new Twitter initiatives–and one other that's just fun to explore–may fuel your obsession with numbers.
#FirstTweet
Twitter is now an eight-year-old, and it celebrated its birthday by launching a tool that shows you your first tweet.
This tool provides little functionality other than some warm fuzzy feelings of reminiscence, but it is definitely a wonderful way for you to look back at the beginnings of this explosive and influential social media platform.
[Tweet "Celebrate first tweets together by using the hashtag #FirstTweet."]
Fave People
For those who haven't created a list of their favorite people they follow, Twitter's Fave People could provide a very useful tool. This feature is in the incubation stage aka "undergoing beta testing", but its purpose is to provide users a filter to trim their feed to just their favorite follows. T-Mobile's Fav 5 Twitter's Fave People has the potential to be very successful due to its offering of providing users quick access to their favorite users.
View Counts
Another current experiment in the Twitter laboratory is a tweet view count, which shows users just how many times their individual tweets were seen by others. For those of you who are concerned with the numbers mentioned in the opening paragraph, this could send you into a frenzied euphoria or spiraling depression.
Twitter's rollout of the view counter was done rather stealthily (I merely received an email summarizing the views of my last few tweets), and it's unclear whether this will be a permanent addition to the app.
What Do You Think?
What is your reaction to your #FirstTweet?
Is Fave People the kind of feature you'd like to see on Twitter?
Will a view count affect the analytic assessment of a company/brand/etc.'s effectiveness?
Let us know your thoughts in the comments below or in the SpeakPipe widget to the right.