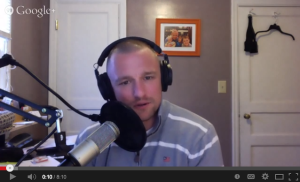 I love the way the internet works.
About three months back, I happened run across Brandon Hull on one of the mainstay social networks I use. It's blurry which one it actually was.
An Internet marketing extraordinaire and founder of a little site called NextRestaurants.com, Brandon and I hit it off right away. Since then, NextRestaurants has become a syndication partner of Social Restaurant Podcast and Brandon and I have been exchanging some guest posts.
It's a good set up.
Brandon and his team out in San Diego put out a lot of great restaurant industry content each week, with a special angle toward marketing. They even have a directory of restaurant marketing service providers that is absolutely worth bookmarking as a reference.
Oh, and you can get Brandon's weekly newsletter as well. I subscribe and it's a regular read for me each week.
This Week in Restaurant Technologies: Google Cards and Pickle Data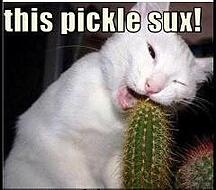 As soon as Brandon and I talked, we saw an immediate synergy between our two businesses and platforms. My students at Ohio University will tell you that I am all about the idea of 'synergy'.
Thus, a new series we've lovingly titled This Week in Restaurant Technologies was born. If you clicked on that last link, you'll notice that there's not too much to the YouTube channel just yet. Like all content that is marketed, you can expect to see incremental improvements evolve our idea over time.
Don't believe me? Go back to episode 001 of Social Restaurant Podcast and see how far we've come.
But for now, here is the list of what you'll get from us each week ... for free:
A prerecorded Google+ Hangout on Air of no more than a 10 minutes.
Commentary on 1-2 significant changes in restaurant technology trends.
General banter between two dudes who have spent their careers with one foot in restaurants, and the other in technology.
A few laughs at our week guffaws.
Occasional kids, cats, wives or other house guests poking their heads in while we record these videos from our home studios.
Surprise guests, and your chance to be a part of the live broadcasts on YouTube (once we work out all those bugs).
This week marks the inaugural video. It runs about 8 minutes long, and we hope you'll find it useful. If you do, try subscribing to the channel or simply come back to our blogs every Thursday for the next video in the series.
You Won't Find Sunglasses Indoors
I should give credit where credit is due.
The idea for this new weekly content venture came first from watching my friends Kyle Lacy and Jay Baer produce their weekly Baer Facts Videos, which happens to be a content endeavour that is presented by global email marketing software and analytics provider, Exact Target. If you've not tuned into Baer Facts, give it a spin. I promise you won't be disappointed.
After a few months of watching these videos, I asked myself: Why has no one produced anything like this on restaurant technologies?
And so, like most of us do these days, I turned to Google in search of the answer.
That led me to William and Eric, two industry veterans who had been producing restaurant industry related content under Paul Barron's Foodable Web TV network.
While our production quality is nowhere near as amazing the folks over at Rock My Restaurant (yet), I'm willing to bet that the commentary you'll hear from each week on This Week in Restaurants will be incredibly useful, and hopefully entertaining enough to keep you coming back every Thursday for more ... pickles.
Just don't expect us to wear sunglasses indoors, okay?