NRA Show Recap
In this week's show, I just returned from four days at the National Restaurant Show in Chicago, IL. I spent lots of time getting to know some of the new, hot technology companies in the NRA Show Tech Pavilion.
1. Privy, a customer tracking service, believe people want to be treated like people. Privy understands this and helps your business to track your customers and know how to interact with them.
2. KallPod, new to the NRA scene, is a service efficiency company. They provide your restaurant or business with a simple communication platform that increases efficiency of employees and the experience of guests.
Tune in as Brandon and I recap some of the audio clips captured from the vendors. You'll get inside our heads to find out what they learned from exhibiting at this gigantic show.
Watch the video to check out this week's regular banter.
This Week's Hangout Notes and Resources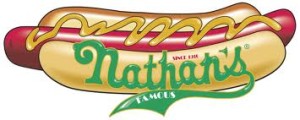 If you're not familiar with the National Restaurant Show, check out their website. Held every year in Chicago, the Show is a great place for restaurateurs.
Being in Chicago, Nathan's hot dogs are a hot commodity. Although the Show isn't all about food--technology plays a large role in the show.
I talked to Open Table, the popular reservation specialists, in their fancy booth. Although it was a 10x30 space in a cramped
center, the OpenTable folks had a sweet booth set up. Their space allowed for meeting that felt private, an important aspect for the business transactions that take place during the show.
I also got to speak with Fishbowl, on their 14th year at the show. The marketing company took a low key approach to the show while simultaneously promoting their services other than email marketing.
Follow the NRA show recap and the NRA Show Technology Pavilion by searching for #NRAshow or #NRAshow14 on Twitter, Facebook and just about anywhere people and brands talk online.
Tune in Next Week
Brandon and I will be back with another episode next week. You can tune in on Thursdays here on my blog to catch the archived recording.
If you'd like to watch and participate in the live Google+ Hangout, we'll be broadcasting at 11AM EST on the This Week In Restaurant Technologies YouTube Channel.