How do you watch your favorite TV shows?
Do you DVR them to skip the commercials or do you watch them at their scheduled times and follow on social media during commercial breaks?
These second screens, with their apps, instant messengers, and Netscape browsers, are prime real estate for back channel content and engagement, and there are ample opportunities for shows to talk with their fans and listen to their reactions. This has given rise to social TV: the fusion of TV content and social content.
Social TV is Rising
TV shows and networks are adding to the experience of viewers like you on devices other than the TV by harnessing the power of social TV. Even networks are getting in on the game. Lost Remote listed their top social TV shows for 2013. Their rankings are based on "distinct Twitter accounts who saw at least one tweet about the show each episode", but engagement doesn't happen unless their is interaction between the viewer and the show.
Inspired by Convince and Convert's post, I decided to investigate which TV shows were embracing the power of the second screen now. This investigation (by no means exhaustive) included 51% internet research, 23% noting commercial promotions, 29% following the conversations live, and 2% butterscotch ripple. Here are three second-screen-engaging TV shows in no particular order:
White Collar
Using Twitter and GetGlue, White Collar retweets and responds to Twitter users who express their emotions for the show be it excitement for an upcoming episode or are left in shock at the end of an episode. Even more, they publish content for both East and West Coast viewers! Even more more, they share unique mentions from fans like the one below:
@AliciaMeredith1 He'll be breaking hearts in no time.

— White Collar (@WhiteCollarUSA) January 16, 2014
Modern Family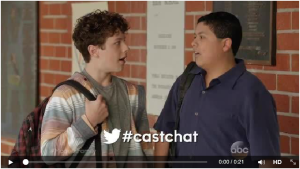 Modern Family, aired on ABC, recently unleashed a Twitter campaign using the hashtag "#CastChat". By using the hashtag, viewers were able to tweet live with the cast and join conversations with other fans. You'll enjoy checking out the banter!
USA Network airs re-runs of the show and will soon unveil a second-screen component that "includes trivia, polls and custom advertising content" as well as designating a social super fan for the episode.
The Mindy Project
The Mindy Project frequently replies and converses with fans. Most of these replies are unsolicited, while others are prompted by questions tweeted out by the show during airtime. With one look at their tweets you'll observe the frequency that the show engages its fans.
This recent gem highlights how the show fuses the quirkiness of the cast with current hot items of its audience:
Mindy's Interests: Cooking, working out, waking up early, saving money, fine independent films... http://t.co/EAn4NdBUWb #themindyproject

— The Mindy Project (@MindyProjectFOX) January 16, 2014
Retrofitting Social TV
With second, third, twelfth screens playing an integral part in how viewers consume their TV content, I find myself wondering, "What classic TV shows would have thrived with this technology, Carson?"
[audio mp3="http://www.nrmedia.biz/wp-content/uploads/2014/01/Seinfeld.mp3"][/audio]
Dr. Michael Pfahl, a professor of mine, recently expressed his hands-down runaway choice: Seinfeld. "Seinfeld would've thrived in this environment. What they did on the show was ripe for discussion and repetition."
Your Turn
Which TV shows from the past would thrive in this new environment of digital consumption?
Do you have more examples of TV shows and their networks doing tremendous work on second screens?
Share your contributions in the comments below or use the SpeakPipe widget to the right to leave us a voicemail!