The well-known six degrees of separation, which proposes that any two people are connected in a maximum six steps and has turned into a Kevin Bacon game, is under fire with the expansion of the vast body of social media research.
Social networking sites can increase interpersonal connections, and new research has shown that the theory may be more like six-ish degrees. Little Ron Weasley shares my reaction.
Six Degrees: Initial Examinations
The first internet-based research of the theory was by Duncan Watts, a professor at Columbia University, in 2001. Watts, author of Six Degrees, had 60,000 people try to send an email message to 18 targeted recipients. The average number of connections was 6.
In 2007, two researchers sliced and diced a whopping 30 billion conversations between 240 million people on Microsoft Messenger. Talk about being invested in your research! The average distance was nearly 7 (6.6).
Six Degrees: Under Fire
In April 2010, Sysomos Inc., a provider of social media research and analytics, analyzed more than 5.2 billion Twitter friendships to investigate the connectivity of the Twitter network in their "Six Degrees of Separation, Twitter Style" study. The research discovered that most common friendships on Twitter occur at distance of 4.67 steps.
In 2011, Facebook collaborated with researchers at the Università degli Studi di Milano to find if the degrees of separation between any two Facebook users was smaller than the commonly cited six degrees.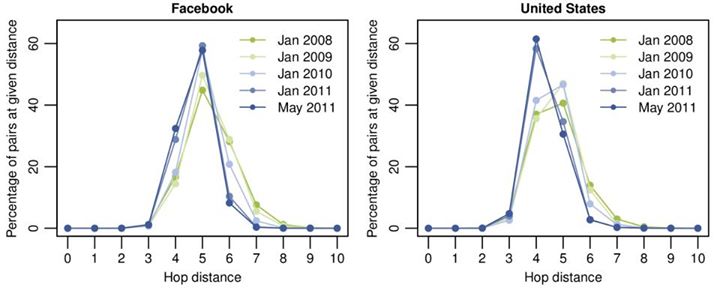 The depth of this social media research study upstages the aforementioned Microsoft Messenger study: 69 billion friendships among 721 million active Facebook users (which is more than 10% of the global population). They found that the average number of connections in 2008 was 5.28. In 2011, it decreased to 4.74.
Taiwanese researchers revisited connectivity within Facebook. In 2013, they analyzed nearly a billion Facebook profiles, which pales in comparison to the 2011 study mentioned above, and placed some exclusive restrictions. These included filtering out celebrities with large networks (thus eliminating extraordinary positive outliers) but not people in obscure professions (thus keeping lower outliers), studying users between 18 and 48 years old, and having users being speakers of one of the ten most spoken languages. They found the "average number of acquaintances separating any two people . . . is not six but 3.9."
From 6 to 3.9, current research is suggesting that Kevin Bacon and others may be closer than you think, but a conclusive answer about how far apart we all are remains elusive.
Six Degrees: Your Map
Social networks are now being mapped in digital form, which has given researchers and YOU the ability to see a visualization of your networks. Thanks to LinkedIn Labs' InMaps, you can now see your social connectivity visualized by pretty colored lines. Give it a try!
What Do You Think?
With social networking a staple in the lives of many people, will the average number of steps between two people going to continue to decrease?
Let us know your opinions in the comments below or by leaving a voice message with SpeakPipe!