A conundrum has been on my mind for weeks now related to smartphone adoption, and I want to get your take.
An excellent trends presentation delivered by Mary Meeker at the recent D10 conference caught my eye this morning as I cruised through my daily learning and content sharing routine. Now a partner at Silicon Valley venture capital firm Kleiner Perkins Caufield & Byers, Mary is an American venture capitalist and former Wall Street securities analyst primarily associated with the Internet. Her opinions are widely respected ... and debated among people way smarter than I.
While the presentation focuses on Facebook's lack luster performance in the passing weeks since the IPO, I found two slides particularly interesting on a somewhat related subject.
First, look at how her slide citing Morgan Stanley research as of Q4 2011. Holy potential, Batman! It's safe to say that eventually, desktop web browsing could be antiquated.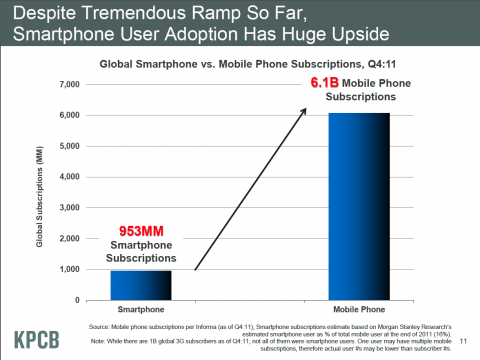 But now look at this data on the rate of what smartphone operated systems are being adopted by us consumers, cited from Gartner and Morgan Stanley research reports as of the same time period. Steve may be flipping in his grave by this point, right?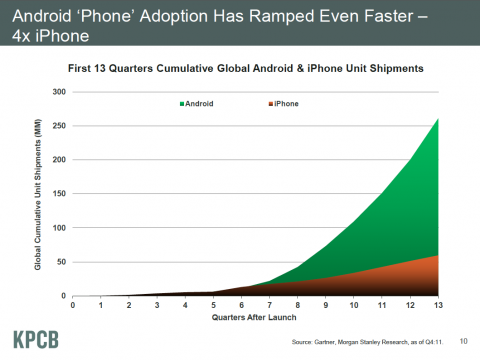 Now, according to an infographic posted on OSXDaily.com that sites Nielsen as the source of the data in 2011, Android owns just over 10% more of the market share than Apple does for smartphone operating systems. If you want to read up on some other interesting breakdowns of user traits for each platform before you leave your opinion in the comments, go back and click-through to that last link. I've set it to open in a new tab so you don't have to back click to this post.

What's your take?
Instagram lived on iOS for well before Android users were given an app and allowed to play in the filtered photos game that has turned more than 100 million smartphone users into amateur photographers. That frustrated the hell out of me.
We are seeing the same thing happen with Viddy right now. While the app is already gaining traction and buzz from the iOS user community, Android users are sit waiting in the wings for their chance to play in creating social video.
Given the data above, does this not seem like a big 'no-brainer', that app companies like Instagram and Viddy are missing a big opportunity to bring new technology where the largest audience lives, thus capturing more of the market share?
So here's your question for the comments -- why on earth is it so attractive for app developers and marketers to launch apps on iPhone first and all but ignore Android until much later in the launch phase?
What's your take?