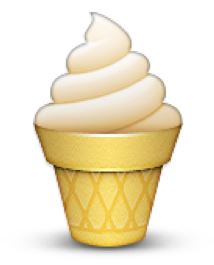 Are you ever so hungry for a nice cold ice cream cone that you only have the energy left to type a single character?
Yelp's got you covered, whether its pizza, ice cream, or ramen you're craving.
In this post, we'll take a look at Yelp's new search-by-emoji feature. Read on for a crash course in image search and the backstory behind this bizarre feature.
Inside Image Search
Yelp might be the first to allow customers to use preset emojis to search, but Google's done something similar (as have other lesser-known names).
Have you ever tried to search Google using images? Dragging and dropping an image into the search bar allows you to find related images and even sometimes an identification. After this feature was introduced in 2011, Matt McGee of Search Engine Land did some exploration of the Google image search feature, leading to correct identifications of skylines and a national park.
If you have Google Authorship set up, you can reverse search your own image to find your articles across the web. (Tip: You can also do this every now and then to make sure your photo or copyrighted content, such as infographics, aren't being hijacked by other internet users.)
As the popularity of Google Glass rises, the implications for searching by image should be very interesting:
Pro - Instant price comparison? It could be convenient to be able to use image search through the conveniently placed Glass camera lens to find out more about, say, the price of a really nice car you pass by on the street.
Con - Creeping on strangers? The company has expressed adamantly it will not implement or allow facial recognition features such as those used by Facebook, which is comforting.
A Different Picture - Search by Emoji on Yelp
As mentioned above, when you're hangry, your patience is thin. The fewer characters your fingers need to tap, the better.
But really, this novel approach does make searching a little more entertaining.
The feature was rolled out after the Yelp hack-a-thon idea was met with rave reviews. Each emoji is associated with keywords that can be used to match up restaurants, bars, and even services such as hair salons.
59% of all Yelp searches are from mobile devices. The plethora of emoji options works well with the wide variety of businesses reviewed through Yelp, which the pie chart graphic demonstrates.
10.6 million unique mobile devices are used to search through the Yelp application itself per month - staggering, but wait! There's more. Users who do not download the application visit the mobile website. Those foregoing the app approach to search through the Yelp mobile website made an average of 42 million unique visits per month.
[Tweet "Yelp's mobile website sees 42 million unique visits per month. -via @morganmeade14 @nateriggs"]
Little Images, Big Benefits
A lesser-touted benefit of the feature is the way a picture crosses the barrier of language. For example, if you're hungry in Hungary but your stomach only speaks English, typing a spaghetti emoji in the search bar may be the simplest option. Thanks to a recent acquisition of European Qype, Yelp's services are available in more major European metropolitan areas. This is even bigger as Yelp expands rapidly worldwide.
Yelp also allows ordering through app restaurant listings in thirty five U.S. cities. Appointment bookings and reservations are coming later this year. Is it any wonder that Yahoo and Google were duking it out to acquire one of Fast Company's Most Innovative Companies of 2014?
What's your take- What comes up when you search local businesses using your favorite emoji?
For business owners - how do you feel about the emoji's you've found to be associated with your company?
Other Yelp News
In TWIRT (This Week in Restaurant Technologies):
Nate and Brandon discuss Yahoo's Yelp integration and the impact on restaurants without free-standing sites. This is a must-listen if you fall into that category!
Yelp is about Ten Steps Ahead on the Whole Augmented Reality Thing:
Have you tried the Yelp monocle to dive in to local digs? Whether you're a wanderlust or just discovering hidden gems in your hometown, this feature is something you have to see to believe. I wrote about how to advertise with augmented reality a few weeks ago. This is along the lines of Google's search by image mentioned above, only in real time!
In case you missed it:
The QSR sector's getting elbow to elbow, so why should your customers continue to choose you? Robles has a great how-to on restaurant loyalty programs, which can be a great way to increase consumer switching costs in a highly competitive market.