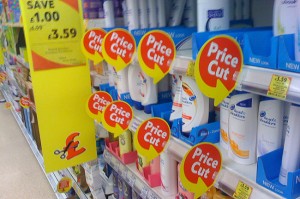 The more traditional school of marketing thought is that price cutting cheapens your brand.
Maybe so.
Yet, at Bob Evans, we've instituted a value menu for the first time in company history, driven by the needs of our restaurant guests. That decision was not come to lightly either, but it's working.
This year, retailers everywhere relied heavily on discounting to drive sales during the holidays. Not that that doesn't happen every year, but it was BIG in the retail recovery of 2011.
Karah Joy sent me this article earlier today on how the New York Times botched a discount program by sending a 50% discount offer meant for a small list of unsubscribed readers to 8.6 million list members. OUCH! That's a steep price cut that they may have to honor, at least for those who make a big deal out of the mistake (no pun intended).
The Question for You
In the wake of the disastrous economy of the past few years, can you really still cheapen your brand through discounting your products and services? Or, is this a mechanism of survival driven by lighter consumer pocket books?
Do you believe that price cutting still cheapens your brand?