In this post we explore List.ly, the online center for social lists, and interview co-founder Nick Kellet about his involvement with the site and its future direction.
Listly is a social sharing site whose users create lists, share them with others, and collaborate. It has a loyal community of followers who actively engage with each other to suggest ideas and curate content. Even better, Listly lists can be embedded into blogs and websites live to promote rich interaction among readers.
According to co-founder Shyam Subramanyan, 30% of all web content are lists or contain list content. And this number is growing. Listly capitalizes on this fact by elevating lists away from their traditional, stagnant HTML format and towards embeddable, SEO-supportive social tools. Why? Because lists are at the center of the growing trend of content curation--collaborative content that builds on the knowledge of many users and drives the best and most relevant information to the top.
How To Get the Most from Listly
Signing up for Listly is fast and easy--simply create an account by linking to your Facebook, Twitter, LinkedIn, or Google+ profile. Once logged in, searching, adding content, voting, sharing, and embedding are all at your fingertips. And with a highly intuitive user interface and helpful pop-up advice, the site is welcoming and easy to use. Listly even offers some advice to help get you started: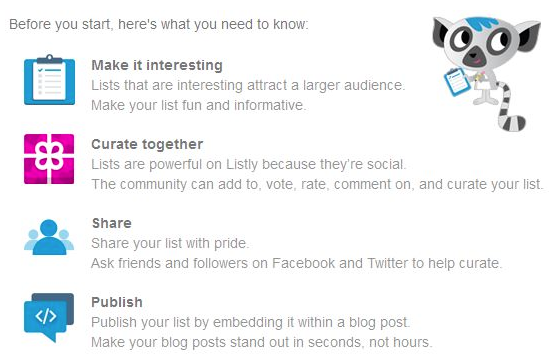 Above all else, the key to really succeeding is to get involved with lists that matter to you. Focus on your passions. If you like advocacy work, you might like reading (and adding to!) this listly about non-profit blogs. Enjoy traveling? Click here for helpful articles and tips. There are also listlys for interior design, the best online SEO tools...even ukulele ratings. If you like it, you can bet there's a listly for it. And interacting with lists that really matter to you will not only make your Listly experience better, it will also connect you with others who share your same interests.
Behind the Scenes with Nick Kellet
We caught up with Listly co-founder Nick Kellet to find out more about what makes Listly great.
Is today's Listly the way you would have imagined it when you co-founded it in 2011 with Shyam?
Nick: Lists organize our lives, personally, socially, and professionally. More bloggers use lists in their posts than embed slides of video. Our vision was to make lists social, collaborative, and embeddable.
We are continually making progress. We are uniquely positioned as a platform to cater to both content creators and curators, [as well as] take part in the explosive space of collaborative content. We believe in giving people a live voice in the heart of a blog post. Comments are the cheap seats. We invite you on stage to be part of the real action. And our participation records keep getting broken as Listly becomes more entrenched in the web.
You can't sign up for Listly without social media linking. Was this intentional to facilitate collaboration?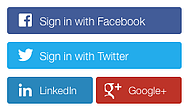 Nick: It was totally conscious. We believe in real people with real identities voting and contributing. We aren't trying to create a Reddit-like troll culture [in which lurking is extremely common]. If someone runs a contest on Listly, everyone can see the people that voted. We believe in open collaboration.
What do you think drives the Listly community?
Nick: People first of all connect with a list. [It] helps them in their moment of need. It solves a problem or answers a question. Listly makes it simpler for the best [content] to rise to the top via collaboration. I guess you could say we're a human search engine, built from thousands of micro-collaborations.
Once people find a list, they discover many people helped make it...by adding and/or voting. They begin to realize that each list is in fact a living community. The people who helped make the lists you like are like you. That's appealing. Ultimately that's what draws people to Listly.
In December 2013 Listly integrated Twitter lists into its platform. How successful has this implementation been?

Nick: [Traditional] Twitter lists are 100% un-searchable. The lazy loading can drive you crazy. [But] you really can't use Twitter without lists. (So Listly integrated the two platforms together to provide its search and collaboration capabilities to Twitter lists.)
Twitter lists have been a great source of growth. Our list count has grown 25% since their launch. We got some awesome reviews...and are working on a V2 release to build on this traction. This week we added pagination and in-list search, which adds value.
Where do you see Listly in five years?
Nick: We think of Listly as Slideshare for lists. As we grow and build out our API, it's in our vision that Listly become list-infrastructure for the web.
[slideshare id=27347372&doc=shareablecontentv3-131018175655-phpapp01]
We all use lists in our lives, but so do all the tools we use. It's our vision that all apps can better meet their customers' needs...by building Listly into their app. Our Twitter list integration is a baby step toward that vision. We think list management is totally a specialization and we are uniquely positioned to serve that niche. We tap into the human fascination for lists. We straddle the consumer AND the blogger/brand/publisher divide. We unite people around socially compelling content. We will keep building on that hook and the social angle in order to build a better Internet, together.
A Look at the Real Thing
At the end of the day, the purpose of Listly lists is to enable the creation of living content. So what would this post be without a little life as well? Take a look at the embedded list below. Created by Nick Kellet, it highlights the best parts about Twitter list integration.
Do you like it? Hate it? Want to change it? You can! Simply log in to Listly straight from this blog to add an item or vote for your favorite. Getting up from the "cheap seats" of commenting and owning "on-stage" action might just be more rewarding than you ever thought possible.
[listly id="Bva" layout="full"]