Klout has been on my mind a lot over the past few months.
It's a
fascinating set of metrics
, and while I still don't necessarily believe that it gives solid data on true influence (meaning influence that humans have in the real world, face-to-face), it's light years beyond all other influence metrics in the social media world.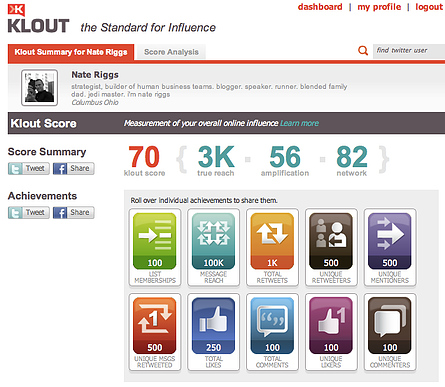 I've been playing with
Klout
recently, testing different strategies, ideas and tactics to determine how I can expand my own presence. Sometimes, that gets me into a bit of hot water at home.
Occasionally, I feel like I
my EVO
might as well be surgically grafted to my hand. It is what it is, and I'm trying to get better at unplugging. All that said, I have been able to improve
my Klout score
by about 25 - 30 points since October.
Here's some of the stuff I've learned. Please, steal these ideas and try them out. See what works for you. Okay?
7 Tips for Improving Your Klout Score
Ask earnest questions. Asking your followers questions is a great way to start conversations. I'm always surprised at the amount of people who are willing to share their thoughts on just about anything you ask. The key is to be earnest and genuine. In other words, ask questions you really want to know the answer to. Twitter folk have become pretty savvy at ignoring loaded questions that are designed to promote your own objectives. For bonus points, ask questions that matter to you on a personal level. At the end of the day, we're all human, right? Humans enjoy talking to other humans about the stuff that makes us human. Don't be afraid to get personal.
Try hosting a Twitter Chat. Heather and Mike Whaling were the folks who really piqued my interest in Twitter Chats. Once you establish some consistency and expectations among your audience, organized Twitter Chats are a great way to increase the amount of folks who reply to your @name or even retweet (RT) the questions and content you push out. Both of these metrics are included in what Klout looks at to determine your score.
Show appreciation individually. At Incept (client), we've learned that appreciation is the critical factor in opening more conversations on social networks. Simply saying thank you is so powerful. In terms of your Klout score, each thank you message you send chalks up another one-to-one conversation with one of your followers. Each one-to-one conversation you have, in turn, affects your overall score. Oftentimes, people (including me) will thank multiple followers in a single tweet. That's okay, but be aware that by doing that, you are also reducing the amount of @reply's that are counted in your overall Klout score. Doing more one-to-one appreciation can give your Klout score a boost over time.
Be snarky and fun. A large part of participating on Twitter lies in the entertainment value. Twitter, in a sense, has replaced much of the lighthearted conversations that used to take place at the water cooler. Don't feel like you have to be too reserved when you tweet. Carefully placed, snarky comments tend to draw a big response from followers. It also makes using Twitter much more fun, and we humans have a tendency to naturally engage more in the places we enjoy ourselves.
Cut the noise with lists and columns. Using tools like HootSuite or Tap11 gives you an advantage in that you can set up specific columns for the lists you follow to make Twitter users on those lists more visible. Taking the time to set up lists as columns in your dashboard, containing the people you find most interesting or have the best relationships with, helps you avoid missing any opportunities to join in their conversations.
Brevity increases sharing. Twitter has a 140-character limit on tweets. If you are distributing links to blog content, videos or articles, you will automatically lose up to 10-15 characters. Now consider what happens when you retweet content. You lose even more through the insertion of "RT @name." To increase the sharability of your content across Twitter, try keeping your content sharing messages under 70 characters. Doing so will make it easier for multiple people to retweet your stuff. The more RTs you get, the higher your Kout Score will climb.
Make time for Twitter. Klout does a fantastic job of measuring how humans use Twitter to communicate with other humans. All influence is rooted in communication. But what does that really mean? It's simple. If you want to improve your influence on Twitter, it's absolutely necessary to use Twitter frequently as a day-to-day communication tool, much like email, Facebook or your mobile phone. I know what you might be saying, "I have no idea how to fit Twitter into everything else I have to do." That's fair. However, here are 22 tips to help you with that.
What would you add to the list? What's working or not working for you?