A few times each year, I take a long hard look at the tools I use to manage my presence and do some Spring cleaning.
Part of my role at The Karcher Group is presence building online and brand evangelism, and that means dedicating a decent amount of time each day to both creating my own content as well as curating your awesome posts and tweets.
For the last few weeks, I've been sucked into one of my personal reviews, and I want to share with you one of the tools I've opted to add to my personal social business tool kit, in part because it's particularly helpful in using Twitter for business marketing.
---
Why I Use Twitter for Business Marketing
Perhaps I'm biased here, but keep in mind that I asked you to mark my words when I made the claim 'that eventually ... Twitter will win'. I'm looking forward to seeing Tom Webster present the findings of the Edison Research study at BlogWorld this June, as it seems to point to findings that suggest the same.
I've always been able to derive a solid base of results from using Twitter for business marketing. It takes a significant investment of time and effort, but in the last few years sharing content and engaging with you nearly everyday has helped me to increase top-of-the-funnel opportunities such as:
Discovering new tools, research resources and savvy peers that have helped forward my own business goals.
Finding speaking opportunities at conferences like Content Marketing World, BlogWorld, Foodservice Social Media Universe and literally dozens of other national events.
Building an audience and subscriber-base for my blog by distributing my posts on Twitter. I still remember how tough it was to build subscribers before Twitter, so trust me when I say that all of your gracious mentions, Re-Tweets and click-throughs have made all the difference in the world.
Expanding my network with people like you, who are interested in web marketing and using social media for business. Some of you have even turned into clients (thank you) after we got to know each other over time
Don't get me wrong -- Twitter is only one network choice in my presence, but if I had to choose only one to continue with going forward, I've found a home on Twitter.
---
Buffer - Efficiently Using Twitter for Business
Being effective on Twitter doesn't happen overnight, and it indeed doesn't happen without significant effort.
For my own presence growth plan, I am scheduling somewhere between 30-50 tweets each day, hopefully seven days per week. While I do tend to back off some on the weekends and modify my content to appeal to more personal topics, I still make a point to schedule tweets most Saturdays and Sundays.
It takes a significant amount of time to stay on top of this type of editorial calendar, and I've been testing three different apps against Hootsuite's feature set that include SocialFlow, Crowdbooster and Buffer.
While all are excellent and well-designed social media management tools (and I intend to use each for different purposes), Buffer has emerged as the app that most aligns with how I roll with my day-to-day use of Twitter for business.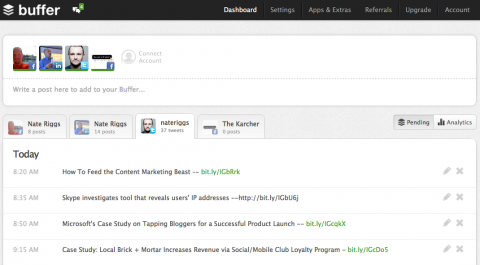 I like how Buffer founders describe their own approach to social media management on the company's About Us page:
Buffer makes your life easier with a smarter way to schedule the great content you find. Fill up your Buffer at one time in the day and Buffer automatically posts them for you throughout the day. Simply keep that Buffer topped off to have a consistent social media presence all day round, all week-long.

We genuinely want to help you create an authentic and honest appearance on social media because we believe that there are no "short-cuts" to succeeding on a platform where engagement is so crucial. We know that Buffer is one solution amongst many out there. You will often find us recommending a variety of tools on our Twitter account or on our blog. We believe that providing the best value for your particular situation is far more important than a quick sale of our product.
In the sections below, I'll cover some of the key features that drove my decision to abandon scheduling tweets on Hootsuite in trade for using Buffer to manage my business marketing for Twitter.
---
How To Use Buffer Browser Apps and Extensions
Buffer's menu of integrated 3rd party apps and browser extensions was one of the first features that immediately caught my attention. In today's ADD-friendly online world, having the ability to plug apps seamlessly into the other tools you use is not merely a "nice to have" feature -- it's a must!
The folks at Buffer seem to understand this and have developed a compete set of bolt-on products that drastically enhance the usability of the social media dashboard.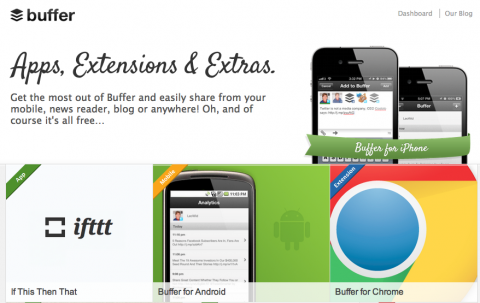 All in, there are about 20 different apps to choose from including mobile apps for iPhone and Android.
My very favorite 3rd party Buffer App comes in the form of an easy to use, highly convenient and fast-working Chrome Extension that beats the Hootlet Chrome Extension to a pulp. So far, I have seen a noticeable reduction in the time I commit to scheduling content on Twitter.
Along that same time-reduction theme, I'll be experimenting with the app extension Buffer provides for the popular web start-up, IFTTT (If Then, Then That). This tool will allow me to fill my Buffer content queue with articles I star in my Google Reader account.
While I anticipate that I'll have to go back in and modify the tweet copy, I'm guessing that this will still save me about 20-30 minutes of additional time each day, simply by reducing the amount of clicks from reading to scheduling.
---
How To Use Buffer to Schedule Content on Twitter
Even without using the app to plug into IFTTT, Buffer is incredibly useful in adhering to an editorial calendar for business marketing on Twitter.
Consider for a minute the differences between what, how often, and in what ways you should share content to your LinkedIn audience, versus sharing content to Twitter followers. To be truly effective in building social media presence, you must change your activity to align with the rules and culture present inside various social networks.
Buffer allows you to set up a custom distribution scheme for each individual social network and currently supports LinkedIn, Twitter, Facebook Profiles and Facebook Pages. The user interface is well designed, making the task of setting your scheduled daily post times quick and simple.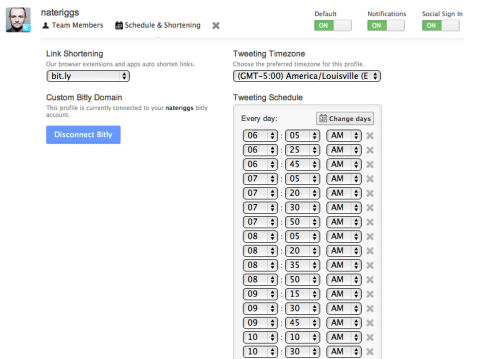 What's nice about this Buffer feature is that it saves you time while also creating some consistency in your posting schedule. You can also customize the times in variations 5 minute clock intervals, and adjust the flow of content to increase in frequency during the high-engagement times of the day.
Here is a list of simple steps I follow when scheduling my business marketing content on Twitter each day:
As I work through my Google Reader, I open articles that I feel are worth talking about in Chrome as separate tabs.
After I have populated 20-30 at a time, I then go back to each article and click the Chrome Extension icon at the top of my browser. See below
Next, I select what networks I would like to share the specific object of content.
Following that, I always make a habit of modifying the tweet copy to add my personal touch of commentary and snark, and then add the tweet to my buffer.
Finally, I go back into my Buffer scheduled content queue and rearrange specific pieces of content in the distribution scheme to appeal to different audiences segments during different day parts.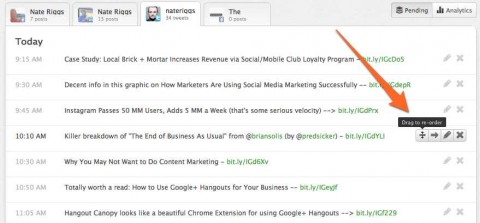 ---
How To Use Buffer to Understand Twitter Analytics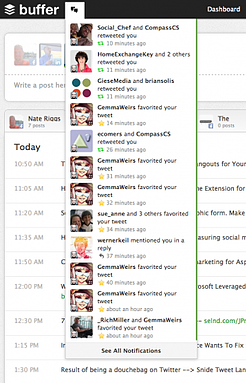 You've scheduled all your content on Twitter for the day and hopefully saved significant time in using Buffer as the tool to do so.
But time efficiency isn't the end game. You need your tweets to work, and like the mantra I strive to live by - if you can't measure it, you can't manage it.
While light in this area of features, Buffer does include some very useful Twitter Analytics. First, the Buffer Analytics tab will help you understand just what tweets are resonating with your audience by showing you the total number of Re-Tweets and @mention responses for specific tweets.
The dashboard provides simple 1-click buttons that allow you to hover and see whether or not you follow the users who are sharing your content, also giving you the ability to follow and reply to them directly from the interface.

Also keep in mind that Buffer seamlessly integrates with your account on Bit.ly making it easy to keep track of all your web traffic analytics from a single dashboard you may already use.
---
My Results from Using Buffer (So Far)
I can't really complain about the results I am seeing in terms of interaction from my Twitter followers and click-throughs on content shared. Below you can see a snapshot of today's results (so far).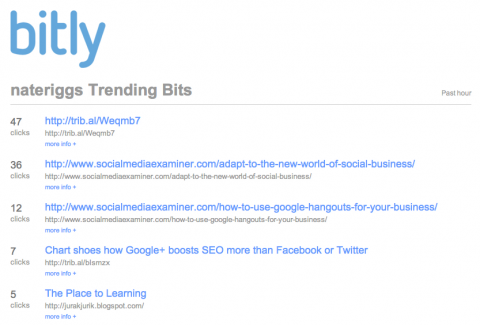 What's even more impressive to me is the uptick I've seen in using Klout as a personal presence measurement tool. Remember that Klout is only one metric in social media marketing analytics and should be taken with a grain of salt.
As a personal benchmarking tool, Klout's ability to show increase or decline in True Reach (the number of people who make up your active audience) is incredibly helpful in knowing whether or not you're building an effective marketing channel.
So far, it appears that my use of Buffer as a Twitter scheduling tool has made a noticeable difference. See below: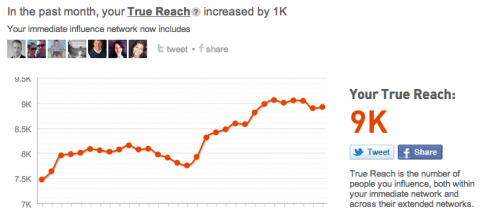 ---
10 More Blog Posts to Help You Use Twitter for Business
You've spent the last 1,500 or so words listening to me preach about how effective Buffer can be as a tool for managing Twitter for business marketing and some of the procedures I follow every day.
If you're still trying to get your head around using Twitter for business, here are some resources that I think will add loads of value to your studies.
---
Leave Me Your Questions
Seriously. This is nearly a 2,000 word post and probably one of the longest I've ever written. That said, if you've made it all the way here ... thank you.
If you have any additional questions on how to use Buffer or even on using Twitter for business marketing, feel free to ask me in the comments. You can always email me at nate [at] nateriggs.com as well.
Cheers!
- @nateriggs