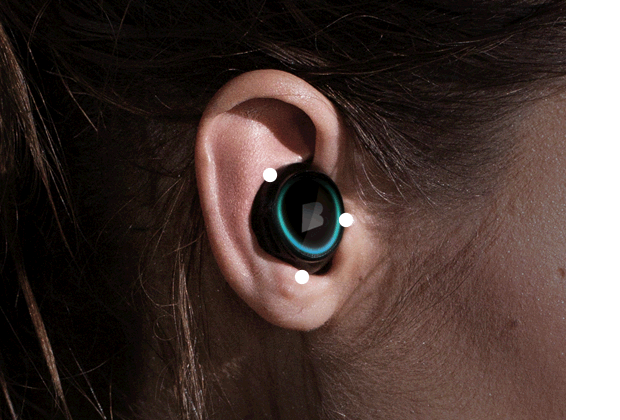 "You mean wearables, right?" Wrong.
Hearables, according to recent sources, are the next big thing.
Nick Hunn of wearable-technologies.com says we're talkin' $5 billion by 2018 big.
If you're still trying to figure out how the h-e-double hockey sticks to advertise on the tiny screen of a smartwatch, here's why you should switch Gears (pun intended).
What are Wearables?
Wearables, in a report by GigaOM, are defined by several key factors:
are always on and acccessible
conveniently worn on the body
feature continuous data absorption and real time information output
can have local storage
cooperate with other communication devices
increasingly utilize augmented reality technology
The wearables industry as a whole is delineated into several specific vertical applications, which includes fitness and wellness, healthcare and medical, infotainment, and industrial and military.
To define the market size of this massive opportunity, wearables are expected to rise in number to 170 million devices in the same report.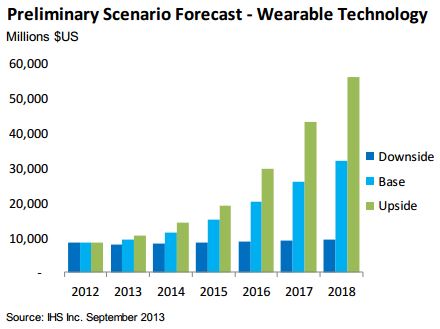 The most conservative estimate is exemplified by the graph to the left, demonstrating findings by IHS. It tops out at a forecasted revenue of $65 billion in 2018.
Any way you stack it, wearables are increasingly integrated into our lives, and a driving trend in the marketing industry.
Switching Gears
Wearables can include everything from cutting-edge contact lenses and tattoos to more "normal" applications such as glasses, watches, and fabric-embedded sensors.
So what's the concern with the current direction of wearables? What needs to change? We've all heard of the social woes brought on by Google Glass and the inconvenience of the tiny screens of smartwatches. Hearables, or in-ear wearables, may be the unobtrusive, already socially acceptable outlet that will truly kick off main-stream market penetration.
Rachel Feldtman of QUARTZ is certain hearables are the solution we've been waiting for. They solve the issue of holding up your phone to your ear once a call is received by smartwatch. Thanks to voice search and an audio response, it could decrease the need to look down at a screen unless necessary. In-ear computers could be the glue that binds the wearable future together.
Have you Heard of These?
Last week, we heard that Apple plans to purchase Beats headphones in their largest acquisition ever. Could this be a harbinger of things to come? Speculation abounds about this seemingly random $3.2 billion acquisition, but I agree Apple's probably trying to stay ahead of the hearables game.
Whether we've realized it or not, some hearable technology is already in the works. Take a look at the list below, just to name a few:
Hummingbird and Hearables: Marketing Implications
As mentioned above, Nick Hunn of wearable-technologies.com, predicts that hearables will make up $5 billion of a $50-60 billion wearable technology market in 2018. With everyone listening in more and glancing at screens less, what implications does this have for marketers?
[Tweet "Hearables will build a $5bn market by 2018 - via @morganmeade14 @nateriggs - NR Media"]
It's impossible not to point out the shift to voice search and adaptations to stay on top of this trend. Take Hummingbird, Google's implementation of the algorithm focused more on optimization for natural speech patterns. On our screens, there is a race for content consumers devour on screens - Hulu, online magazines, and video news are seeing a surge.
What about in our ears? Applications like Pandora, Spotify, and Umano may be on the right track. So what do marketers do? Make sure to facilitate the conversation through new hearable technology.
It is critical to ensure your site is optimized for natural speech. It should answers questions people may ask one another about your products, area of expertise, or services. Way back in 2010, voice queries made up 25% of searches on Android devices. That number is certainly much greater today. Concordantly, 3/5 searches is conducted on a mobile device (Social Media Today).
With voice search becoming more convenient and accurate, the majority of mobile search may turn to the spoken word sooner rather than later.
A case study by Google, Inc. in 2009 established the likelihood of voice search by industry, as demonstrated by this graph. The frequency of spoken queries is demonstrated by the blue bars, as pitted against the normalized typed search frequency of 1.0. The red bars are typed search frequency.
Next, think about ear-catching advertising and audible content. Have you listened to TWIRT lately? Do you know how to incorporate calls-to-action that won't make consumers resent your interruption in their music stream?
Be sure to incorporate these considerations into the next iteration of your brand's marketing plan.