Hi folks,
Facebook Timeline for Pages is here and will be rolling out in March.
This is the very first in a series of posts to help you get up to speed on how your business can use the new Facebook Timeline Update for Pages to your advantage. If you'd like to read the entire series, you can always click on the tag "Facebook Timeline for Pages". Hope this helps.
---
How To Design a Facebook Cover Photo for your Fan Page
I can see that you're as excited as I am ... okay, maybe you're not quite as excited as I am, but you will be soon.
Facebook's Timeline for profiles was released back in mid 2011, and while initial sentiment was mixed as to whether or not people would become used to the new format, many industries and power users have since become fans of the new design layout and how updates are now displayed.
Today, community managers and page admins along with marketers, PR professionals and business owners everywhere are watching this update unfold in the volumes of content that is being published as we speak.
And ... we are all asking the same question about the implications of the Facebook Page Timeline release.
How can I make this new Timeline update work for my business?
With the Facebook page timeline release, we may begin to notice some modifications to algorithms like Facebook EdgeRank (the scoring system that determines what content you see in your feed) as well as GraphRank (a similar scoring system that determines how application content are spread throughout Facebook).
While it's still very early on to predict how this release will affect businesses who've invested dollars and time into growing and activating a fan base, the good news that most of the core principles of using Facebook Pages to build and manage communities of customer brand advocates will remain the same.
It's predicted that by March 30th of this year, all Facebook pages will receive the new Timeline update, so be ready. Even if you don't see it on your page today, it is coming.
As you work to understand how to adjust to the new Facebook Page Timeline in your business, this series will share tips and ideas that you can use get up to speed and take advantage of the new layout.
Your Facebook Page cover photo is an opportunity to make a brand statement
This may be my very favorite addition to Facebook in the release of Timeline. With the rollout of cover photos to both personal profiles, as well as business pages, users and brands can now make a clean and clear visual statement about what their business stands for. Here's one of my favorite examples to date.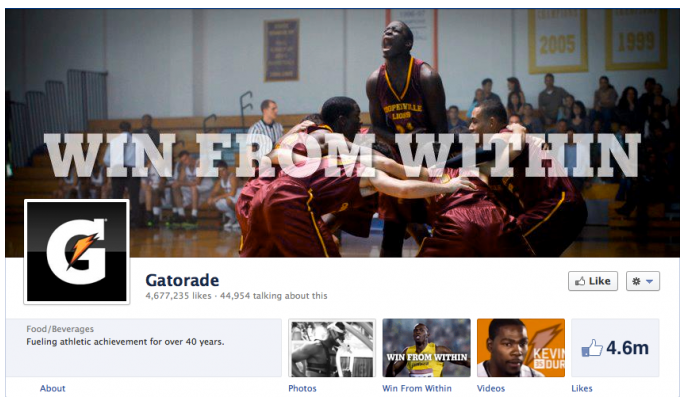 Keep in mind that your Facebook Page cover photo will ultimately be 851 pixels wide and 315 pixels high when displayed on the page and at a minimum, the image you upload will need to be no less than 399 pixels wide. Images smaller than the guidelines will be stretched or cropped.
Following guidelines are also very important.
For instance, a few months ago I wrote about how the hit series Modern Family made a custom cover photo available to fans of their page. Unfortunately, Facebook was not a fan of that move, and cited a violation of the terms and conditions that users could not use the cover photo as an advertisement in any way and it was removed from Modern Family's page.
With the rollout of cover photos to pages, it will be important to understand Facebook's terms and conditions related to pages. Facebook knows that businesses will be using these and in fact, their advertising revenue model depends on it.
So that your brand page stays in good standing. The rules for the page cover photo are as follows:
Price or purchase information, such as "40% off" or "Download it at our website" is prohibited

Contact information, such as web address, email, mailing address or other information intended for your Page's About Section is prohibited

References to user interface elements, such as Like or Share, or any other Facebook site features is prohibited

Calls to action, such as "Get it now" or "Tell your friends" are also prohibited
Covers must not be false, deceptive or misleading, and must not infringe on third parties' intellectual property
You may not encourage or incentivize people to upload your cover image to their personal timelines
FREE IDEAS for your Facebook Page Timeline Cover Photo
So, that said, what do you do to make a brand statement for your business using the cover photo on your page?
---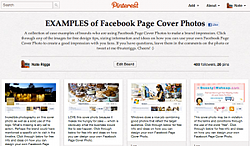 [UPDATE] -- For your reference, and to begin to generate some ideas for your Facebook Page Cover Photo, I've put together a board on Pinterest that includes examples of Facebook Page Cover Photos already being used by brand pages. Some are good, some are not so good. All examples of Facebook Cover Photos include my commentary. Pay it a visit if you're interested.
---
Here are some quick ideas you can consider:
Show your people. If you're a smaller business, get everyone together in one room and have some decent pictures taken of the team. Showing the faces in your business to your fans and customers is a powerful statement.
Show your products. Do you sell things like cars or machines that have slick designs? Perhaps you can feature your products and even change the photo from time to time.
Show your happy customers. You'll need to get permission from them first, but use your cover photo to feature some of the customers who help keep your lights on.
Make a collage. Take existing photos you have of company events, your building and even all the little interesting artifacts associated with your business and fire up Photoshop. Use a collage to tell a visual story.
Feature a quote or customer testimonial about your business. Nothing builds credibility more than a happy customer who's willing to say something nice about the products or services he or she has received.
Your page profile photo will need to be resized
Many business and brand pages that have existed for a while have learned that you can implement the old profile image to look more like a display advertising banner. The old dimensions for this profile photo were most recently 180 pixels by 540 pixels, prior to the Facebook Page Timeline update.
Once you receive the update on your page, you may indeed notice that the pretty banner is now cropped to fit the new dimensions of the Facebook page profile photo which is upload-able at 180 pixels by 180 pixels.
At The Karcher Group, we're redesigning our cover photo. You can see ours below and find the details on our strategy in this post.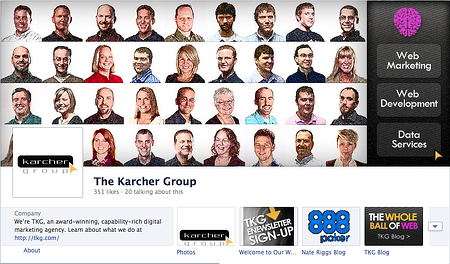 Come back for the rest of my series on the new Facebook Page Timeline update and we'll show you what we come up with.
Tomorrow, we'll look at how the Facebook Page Timeline update modifies how page admins and community managers use the page share content, build higher EdgeRank on objects and respond to fans.
---
Looking for more?
Read the next posts in the series:
How To Rethink Community Management Inside the Facebook Timeline Update for Pages
3 Tactics to Employ as an Alternative to Like Gating
Visit my board on Pinterest to see examples of Facebook Page Cover Photos that some brands are already using to their advantage.
---