Yesterday, we highlighted digital social media trends surrounding the Winter Olympics. Today, we examine a specific digital marketing technique that transcends social media platforms.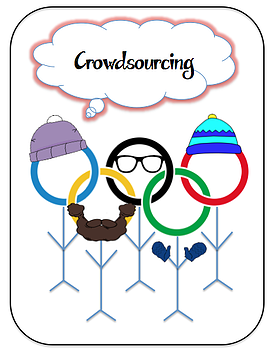 Amongst the hype surrounding the 2014 Winter Olympic Games in Sochi, one popular content marketing technique has gained significant recognition.
Crowdsourcing has caught the attention of fans and Olympians alike, and marketers should be sure to understand its potential as a content development and audience engagement strategy.
What is Crowdsourcing?
Crowdsourcing involves "soliciting individuals both internally and externally to help fulfill the ideation and creation needs of a content marketing strategy."
It shifts the role of content creation away from a firm and towards a community of individual bloggers, subject matter experts, and engaged readers who publish content that is relevant to them. And because over 70% of consumers trust information from personal contacts and other consumers over company content, crowdsourcing can provide firms with high quality subject matter that spurs customer loyalty.
[Tweet "Over 70% of consumers trust information from personal contacts and other consumers over company content."]
According to consultancy group Convince & Convert, there are several advantages to utilizing crowdsourcing as a content development technique:
Increase the speed of content creation: Multiple contributors lead to faster results.
Give current and potential customers a voice: Let your audience tell you what they think!
Spur increased investment in and engagement with content: Participants will share a sense of ownership over content they helped create.
Promote diversity and creativity: Various backgrounds, skills, and experiences will enliven content with new perspectives.
Better understand your content marketing process: Crowdsourced projects must be narrowly and specifically defined, so you will gain a deeper understanding of the numerous processes that work together within your content marketing strategy.
Olympic Highlight: Crowdsourcing in Sochi with OpenStreetMap
Crowdsourcing is not just restricted to blogs in terms of its power to unite communities around a common goal. In fact, this collaboration technique has made headlines during the 2014 Winter Olympic Games.
One reason to utilize crowdsourcing is to provide a source of aggregate knowledge, where the sum of parts is greater than any one individual could provide on its own.
Crowdsourced map application OpenStreetMap has recently enjoyed media attention due to its higher quality geographic coverage of the Olympic landscape than its competitor, Google Maps. The image below, which compares views of downtown Sochi from both providers, illustrates the rich detail offered by OpenStreetMap (left) that is lacking from Google.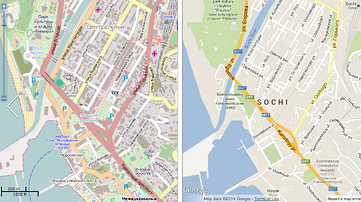 OpenStreetMap depends on its 1.5 million+ registered users to generate and edit map content.
These users are committed to their role, and have greatly improved maps in and around Sochi since the start of the Games. OpenStreetMap founder Steve Coast has written that the company's future strategy will include improvements in navigation capabilities.
Another way that crowdsourcing is applicable outside traditional marketing is through its ability to provide a hub for community resources. Resources can be financial in nature (crowdfunding) or can be based around knowledge, labor skills, innovation, or broad collaboration.
Several Olympic athletes utilized crowdfunding to raise funds to attend the Games. For example, global community members of crowdfunding company Crowdtilt and cryptocurrency firm Dogecoin recently rallied behind the Jamaican bobsled team in order to raise enough money to send them to Sochi.
Initial cost goals were surpassed within a week, and the team was finally able to begin competing this past Sunday, February 16. In addition, similar crowdfunding strategies have successfully been implemented by athletes like the US Women's Ski Jumping team, which collectively raised over $30,000 of monetary support.
Application to Content Marketing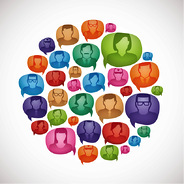 Crowdsourcing is expected to remain a popular and highly valuable tool used by marketers to engage with audiences and publish diversified content. As consumers become increasingly informed about issues they are passionate about, they will seek out ways to engage with brands and other consumers.
And while significant crowdsourcing opportunities exist in relation to blogs and traditional media, there is also strong potential for this technique to transcend social platforms and come alive in response to compelling and influential events like #Sochi2014.
What are your experiences with crowdsourcing? Let us know with a Tweet or a comment below!
[Tweet "@nateriggs I love #crowdsourcing because..."]