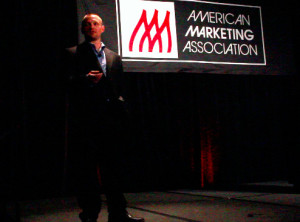 As a marketing professional, I find it incredibly inspiring when I see students doing incredible work.
Especially when its incredible work for an incredible cause.
This past weekend, I had the privilege of being asked to be the Friday night keynote speaker at the 35th Annual International Collegiate Conference.
This event, held in the big easy of New Orleans pulls together sharp, young marketing talent from all over the country -- all of whom are driven enough to pour their hearts and souls into their campus AMA chapters.
I have good news, my friends.
As marketing professionals, we call all breathe a sigh of relief. The future of our favorite craft will be in good hands. These bright young marketing minds are eager to take on the responsibility of pushing the boundaries that will move keep the art and science of marketing moving forward.
I left New Orleans impressed by the creativity, professionalism and sheer hustle displayed by the student AMA chapters. They are indeed, ready to embrace the disruption that's already shifting consumer behavior and changing how markets work.
Content Marketing Examples: Heros Behind a Whiteboards

This was the third year that Donate Life America, a non-profit organization that promotes and builds advocacy for organ donation and one that I've supported in the past, was the Case Competition Sponsor this year's conference.
Student chapters had the opportunity to submit strategies, tactics and campaigns in a variety of head-to-head competitions, with winners being awarded immediately following my keynote on the second night of the event.
I felt privileged to be able to experience the energy in the room as the winers were announced in front of more than a thousand of their marketing peers. To say that I was blown away by this year's winning video submission is very much an understatement.
Play the winning video below from Florida International University's AMA Chapter and see for yourself why I am so impressed!
For me, this is one of the savviest content marketing examples I have seen so far in 2013. It combines effective messaging that's relevant and appropriate for both the audience and and delivery channel.
For one, tapping the concept of the childhood hero is brilliant and adds an 'everyman' type of quality to the story telling. Nearly everyone can relate to aspiring to be a super hero during their child hood years, spending hours sporting capes and pretend super powers. We've all been there at least once.
The hero approach also works to build recognition for the cape itself as an icon. The artiest behind the whiteboard makes a great choice in using red consistently to make the cape pop out against the black and white, hand drawn images. Not only is the cape memorable and effective, it's also a somewhat evergreen icon that can be positioned for more longevity in other promotional materials and campaigns.
The editing, music selection, as well as the pace and length of the video are also wisely executed. Each of these elements seems to strike a good balance adding to the overall attractiveness of the video while not distracting from the intended message.
All in all, this is a creative, well-thought and cleanly executed piece of content marketing.
Meet Sarah Mendoza, FIU's Hero Behind the Whiteboard
Thanks to an introduction by Tim Dugan Birrittella, the Faculty Advisor of the American Marketing Association's FIU chapter, I was abel to talk with the mastermind behind this great piece of content marketing.
Below is a short question and answer session with strategist and creator, Sarah Mendoza.
---

Nate: You guys won the video competition at AMA Collegiate! Well done. Can you give me some details about the entry requirements for the videos? What was the goal?
Sarah: The video needed to encourage others to become organ donors and show the AMA Saves Lives, and Donate Life logo. The goal, at least for me, was to make something different.
Nate: I absolutely loved the time-lapsed white board approach. What inspired you to do that and can you talk about how you pulled it off?
Sarah: I always wanted to do a white board animation because I love doing illustrations and story telling. To give you an idea of where I started out, I made this video alone beforehand.
After I made that video, I decided I wanted to make a better one. I teamed up with some other people who had better lighting and filming equipment and did the video which won at the conference.
It honestly did not take us that long to film it because I had practiced the story board earlier. The illustrations were pretty simple so I did not mess up that much. I came up with the story board, drew, and did the voice for the video. The editing was done by two other individuals I was able to get connected with.
Nate: You guys had a great message with the "hero" approach -- where did that come from and how did you build out the message strategy?
Sarah: AMA Saves Lives has other competitions such as best event. Our theme for our event was "Becoming a Hero". I took that idea, and decided to base the story off of that. The story board just came to me, I guess. I thought people could relate because when I was little I always wanted super powers. So I worked with that, and ended up with the finished product.
Nate: If you did it again, would you do anything differently?
Sarah: I love the way the video came out! It just came together, and I honestly was not expecting such a reaction to it. But, everyone loved it. So, no I would not change a thing.
Nate: What has AMA Collegiate and your chapter meant to your career development so far? What are you getting out of the experience?
Sarah: AMA has given me so many opportunities to be creative and produce great work. I have taken on leadership roles in several projects, and have learned so much about myself and how far I can push myself.
AMA, has honestly changed my life, and I cannot wait to graduate college and take everything AMA has given me into the real world.
Nate: Anything else to add or wrap up with? What do you want people to know about AMA Collegiate?
Sarah: I would like people to know that joining an organization is not about adding something to your resume or waiting around to be given tasks. It is about making a difference and using the talent you have to help the organization.
Just because you join an organization, does not mean an employer is going to hire you. I joined AMA because I had so many skills and I wanted to use them to work on projects and inspire others.
The American Marketing Association has so many projects and so many ways to get involved, I was literally at a loss for words at my first chapter meeting because I knew I was going to be able to use my skills and produce great things.
I feel so much more confident now in my portfolio, and in myself. AMA has showed me that I am doing what I was meant to do all along.
Likewise, winning this year's Best Video has shown me that I really can be a storyteller and that I can inspire others. Without AMA, none of this would have been possible.
---
Content Marketing and Your Business?
The video piece from Sarah and FIU made all kinds of gears turn for me. Time-lapsed video and images can often times be unique enough to cut through the clutter of thousands of content marketing videos published to YouTube every day.
Does anything from the video above stick out in your mind as unique?
Would you have done anything differently? Maybe you took a different approach in your own content marketing approach. What was that?
Let me know in the comments, okay?