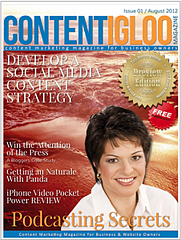 I'm really excited about what Wes Ward is doing in Melbourne Australia! Especially after coming off the back of the second Content Marketing World conference in Columbus.
While still a cradle industry, marketers everywhere seem to be interested in learning how to hone their skills as content marketers.
That's where good industry publications like CCO Magazine, and now Content Igloo Magazine come in.
Introducing Content Igloo Magazine
I'm fortunate enough to have been featured in a new Apple magazine that's launching out of Melbourne Australia, which also happens to be the home of one of my personal content marketing influencers, Darren Rowse, a.k.a @problogger.
I've been placed in the company of lots of good content marketers too.
Along with my contribution, this first edition of this new content marketing magazine features articles from:
I'm honored to be lumped into a group of super sharp, international content marketers -- all of whom are way smarter than yours truly.
Click to Tweet: Content Igloo Magazine just launched from down under. You should give it a look ->> http://bit.ly/Q9tB3z
How You Can Read Content Igloo Magazine
It's pretty easy.
Content Igloo Magazine is available in the Apple App store for your iPhone or iPad as an eReader Magazine.
Since Wes Ward is launching this new content marketing magazine, you can get a code for a free month trial as well as instructions on how to subscribe to the magazine on your various apple devices.
Make some time this weekend to read up! I think you'll enjoy what Wes Ward and his team of content marketers at Content Igloo Magazine have put together.