I think you'll enjoy this guest post from my friend Julie Theado. It's an interesting social media case study on how Columbus Libraries use chats on Facebook to increase circulation.
Enjoy, and have a happy Labor Day weekend!
---
You've heard of hosting Twitter chats before, right?
But what about hosting chats on Facebook as a way to engage customers?
At the Columbus Metropolitan Libraries, we do things a little differently by using Facebook chats to engage customers online and introduce them to new books, authors and our library staff.
I'm thrilled that Nate has asked me to share how we got started with Facebook chats, and how you can too.
How We Got Started with Chats on Facebook
At the library, we're not really selling a product – our purpose is to inspire reading, share resources and connect people. And, social media is just one way that we do that. We are driven by our strategic plan, so everything we do is guided by our purpose and then measured against the goals we've set each year.
We're active in social media and are always looking for ways to engage customers, provide them with unique information and content that peaks their interests.
Our first idea was to conduct Twitter chats using @LibraryJennifer (one of our staff here at CML) as the chat moderator. Unfortunately, Twitter didn't really create the interest we had hoped for among our customers.
We took a step back and realized that our Facebook page currently had more than 25,000 fans, and most of them seemed to be active and engaged. With that, we decided to experiment with using chats on Facebook to see if taking the conversation to the audience would bring better results.
How Chats on Facebook Work
Our chats on Facebook take place from 7 p.m. - 8 p.m. EST on the first Tuesday of every month (just in case you'd like to join in and see us in action!).
We start by asking our fans what they're reading, what type of books they're looking for, and other questions that help us to understand what type of content they generally find interesting.
Chats on Facebook are conducted directly on the timeline, using status updates as the way the moderator shares questions. The conversation then picks up through the likes and comments on each specific question. The timeline format actually helps keep the conversation much more organized than what you would find in a Twitter chat.
We've been amazed at the level of fan engagement we've seen by using chats on Facebook as a way to engage customers. Below are just some of the hard and soft results we've seen to date:
Author Facebook chats are working to increase circulation - Author chats usually have at least 60 people who follow the conversation about the book. We notice that circulation of the book often increases after a chat.
Library Jennifer Facebook chats bring new customers into the fold - We average approximately 20-40 participants each month for these chats and have new people participate every time we conduct a chat.
Facebook chats have increased our page Likes - We have also noticed that as a result, our other content seems to be spreading to new people virally.
Facebook chats have increased positive sentiment - Our customers openly appreciate this service and the opportunity to talk about books.
Hosting Chats on Facebook with Popular Authors
Our next step was to find a variety of popular authors to participate as guests in our Facebook chats.
We typically invite different authors a few times a year to answer questions from our Facebook fans. The structure is fairly simple – Library Jennifer serves as a moderator, and the author answers questions directly from our fans.
We've found this is a cost-effective and successful way to bring authors to our customers. Our customers get to engage with authors from the comfort of their own home, and we don't have to pay travel expenses and other fees to bring the author to Columbus.
It's a win-win situation.
How We Host Facebook Chats
Identify who (if anyone) will host the chat. This could be done under the company logo depending on your topic.
If it's an individual, set up a Facebook page for them that's separate from their personal page.
Provide necessary admin rights.
Promote the chat a few weeks ahead of time on all your social media outlets.
Post reminders closer to the day of the chat as well.
Post 15 minutes before the chat begins to inform your fans that the chat is only 15 minutes away.
Five minutes before, change the profile picture to the individual conducting the chat. It signals that something is about to change.
Our Structure for Facebook Chats
Introduction on status: person conducting the chat introduces themselves, states they are taking over the page for the next hour, and mentions what will be discussed.
Ask your fans to like the post, so you know how many are following even if they don't comment.
The majority of the conversation then occurs within the comment fields. Respond to questions in the comment field.
Aim for only three status posts in an hour – this is not Twitter; so do not post too frequently or people will unfriend you.
Once the chat is over, find ways to repurpose the Facebook Chat content. We post the books that were discussed during our Facebook Chats on our Pinterest board.
What You Need to Know About Hosting Your Own Chats on Facebook
Know your audience – it's clear that Twitter followers and Facebook fans are different, so what works for one might not for the other.
Don't be afraid to try something to see how it works.
Always look for ways to engage your customers in social media.
Consider your social media strategy – does it make sense to have the Facebook chat conducted by an individual or under the organization logo?
Be prepared – have links to articles, information or other resources ready to go in order to answer questions quickly.
If you're chatting with someone else (an author in our case), make sure you have questions prepared in case your Facebook fans are a little slow to ask.
Keep posts short and concise.
---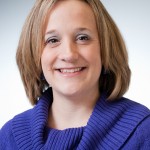 Julie Theado is the social media manager at Columbus Libraries. She is credited with implementing the Columbus Metropolitan Libraries social media strategy and presence that includes regular chats on Facebook. She has spent the majority of her career working for public relations and marketing agencies. You can also follow her on Twitter @jltheado.