I've been a big fan of the work of Brian Solis for some years now.
As one of the leading thinkers in the study of disruptive technology and its impact on business and culture, Brian is known for consistently having his hand on the pulse of what's changing in the digital space.
In the case below, we'll look at how Brian uses his blog, content marketing techniques and social networks to break news related to Facebook's coming IPO. By executing these tactics, he's able to build credibility and awareness for the Altimeter Group, a research-based advisory firm in which he is a Principal.
All that said, PR students everywhere should applaud his approach to this blog post on the SEC Filing information for Facebook as a classic case study in how to leverage blogs to get the attention of traditional press and other online publishers.
Here's a quick breakdown as to why his approach is as savvy as it comes.
Timing is Everything
I took this screen shot at about 6PM last night, not long after the article was published. From what I could see, Brian was one of the first bloggers to publish any commentary on this news, putting him in a position to capture a good deal of attention from others writing about the developments.
How did I happen to find it so fast?
The credit goes to a tweet I found from my friend Kelli Nowinski. Not only were Brian's readers flocking to the post, they were sharing it as well. There's value in the social proof that comes with being a participant in growing a meme. Brian's credible personal brand presence online, combined with an info hungry audience, quickly propelled a meme into the web.
When I clicked through to his post, here's the first thing I saw: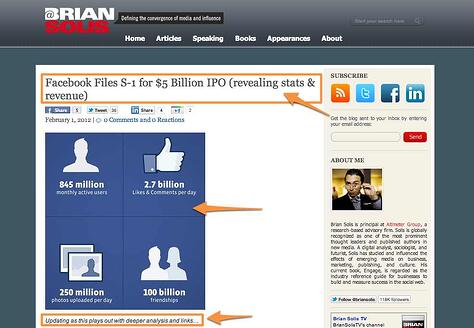 Headlines are Mission Critical for Search & Humans
Notice that Brian titles his post with both human readers and search algorithms in consideration. That's tricky to pull off. The words "Facebook", "IPO" and "Files S1" are all present at the front of the title to tease search engine crawlers and leverage the quires that users will eventually search on when the buzz takes hold.
What's even better is that hook at the end of the title: revealing stats & revenue. This addition to the title, while not valuable to search engines, creates a sense of mystique in the post, sharing that there is juicy insider information within.
Give the Audience Stringless Objects
Brian hooks the audience even further by integrating an infographic into the post that visually shares the numbers behind the Facebook's network volume. This graphic is actually found as part of the filing. The value in including this is that literally any blogger or reporter can simply click on the image and download it to their desktop to use in their own content.
Teasing Relevancy Encourages Repeat Visitation
Notice the small line of text under the graphic. Brian makes sure to mention that his post will be updated with new information as it becomes available, encouraging readers to bookmark the page and keep coming back for new content. It's a wise move, but always be sure to be able to deliver on the promise of more information.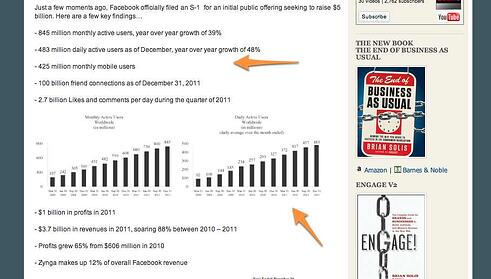 Press Loves Numbers
In the next section of the post, Brian shares all kinds of relevant data taken directly from the SEC filing.
These stats and the accompanying graphics give reporters and other bloggers more information from which to be able to create their own content. The information is communicated and displayed succinctly making it easy to digest and then customize .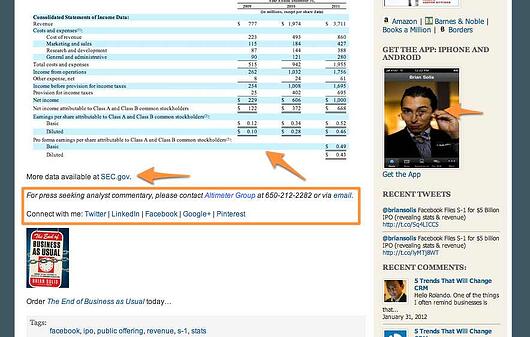 Credibility and the Call to Action
This screenshot above is why I think this post is such a smart approach.
Make sure to cite the actual filing on SEC.gov. By giving a source available in the public domain, he adds great credibility to the information he's packaged up for the audience.
The orange box is the most important part of the post in terms of PR 2.0. If you read closely, you see that Brian is making a very effective call to action directed to press who might be seeking analyst commentary from his consultant partners in the Altimeter Group.
Notice that Brian's photo from his mobile app just happens to be positioned at the bottom of the post. While I'm not sure it was put there intentionally, it does work to identify Brian visually, and in a sense let the reporter or editor know who they are speaking with when they call.
As a final touch, Brian makes it incredibly simple to connect with him by giving a variety of channels that include social media profiles, his direct telephone number and even a link to an email address.
At the end of the day, the combination of all of these elements makes this style of press-friendly post an incredibly effective tactic for getting your opinions and expertise published in both online and traditional media.
Take This Away
My advice? Take this great blogging example, bookmark it in your Diigo library, and find ways to apply the technique in your own business.
Perhaps you won't be able to get placement in national media, but if the local paper or chamber of commerce news letter drives business through your door, target those publications first.
Maybe you've already done something similar? If you have, what were the results? What recommendations do you have that might add to the execution of a post like the one above?
Share what you think in the comments, okay?