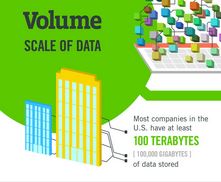 Today, marketers and the businesses they serve are experiencing a new kind of problem. IBM, an industry thought leader on big data management and translation, has some intriguing findings.
90% of the data in the world has been created in the past two years alone.
If you look closely at the graphic on the right, most companies have at least 100 terabytes (100,000 gigabytes) of data stored. This will only increase as social media content, health and wellness statistics from wearables, and transportation data from intelligent vehicle sensors accumulate.
So, how can companies best harness all this new information?
Read more about the 4 V's of Big Data in this IBM Infographic.
There are so many novel ways and tiny moments to collect data, it's hard to pick out the most beneficial for your strategists to synthesize. One new company has been created as a prototype more should consider – a conglomeration of big corporations to harness economies of scale and scope in analytics and information-gathering. Another is a consumer privacy-conscious exchange in the making, and the first one we'll introduce is a novel way to gather real-time, real-life social data.
[Tweet "90% of the data in the world has been created in the past two years alone."]
As you read through, think about how your company can employ similar efforts to stay ahead of the curve. Moving forward, creating an efficient and beneficial information generating ecosystem will depend on individual companies taking the initiative.
Here are three interesting IT initiatives aimed at taming big data of gigantic proportions:
1. Crowdsourcing from Smartphones
Two new mobile applications are leveraging one tiny motion for a big social impact. How many times per day do you unlock your phone?
Twitch and Slide to X want replace that 1.3 second motion with a simple question taking just about the same length of time. On average, participants in a Slide to X study answered fifty of these per day.
What's different about these questions than what can be gathered via computer? Users provide social insight such as the noisiness or liveliness of areas in a city. Some potential applications could also allow verification of machine-gathered facts from across the web while participants are on the go.
Wondering how data on user environmental perceptions can be used to increase the bottom line? Read and listen more about the importance of the consumption environment here.
2. Insight Exchange
Intel is seeking to solve the conundrum of data collection and exchange security by providing a secure information-trading portal. Reliance Point is a prototype that hopes to let third-party companies to compare and combine sensitive data in an information exchange without the risk of private information being leaked. This would potentially allow them to provide better services for their customers.
The example below is along the same track – companies seeking better synergy by combining information-interpreting capabilities across the industry.
When you think technology power-players, Silicon Valley is typically what comes to mind. However, a lucky-seven legion of some of Ohio's biggest companies have decided to combine forces to develop better customer experiences and more economic efficiency across their respective industries.
American Electric Power Company Inc., Battelle, Cardinal Health Inc, Huntington Bancshares Inc., L Brands Inc., Nationwide Mutual Insurance Co. and OhioHealth Corp will put their customer insights together for the greater good of information-silo elimination.
Currently, they are working with IBM, a power player in providing advanced analytics technologies. They hope to facilitate safer, more secure, and strategically significant signals from the massive amount of noise they collect from customer interactions.
All this tech talk can get a little overwhelming at time for business professionals. To brush up a little more on the latest innovations, reading reports from industry conferences is a great resource.
For example, learn why one blogger proclaimed SXSWi 2014 the Dawn of Data here.
Want to read more on the latest industry research? Read this post on how social ties are mapped and analyzed.
Personally, I'm intrigued by the latest talk on machine learning. What about you?