What has a longer attention span?
[gallery columns="2" link="none" ids="14875,14876"]
Don't let their expressions fool you. The fact is, goldfish have longer attention spans than us homo sapiens.
Is this necessarily a bad thing? What can you do to quickly capture the attention of a user online?
We'll take a look at these in today's post, so, to quote Max Goof, "let's do it to it!"
Is social media causing us to lose our minds?
Not only do we have shorter attention spans, but also we "appear to be more cynical about what [we're] reading", says Carol Bodensteiner.
A recent Pew Internet study suggests that there are benefits to being in an "always on" world. Need proof of this "always on" phenomenon? Check out the quote below!
[Tweet "As a group, we spend 700 billion minutes on Facebook a month."]
With an abundance of information from an infinitillion number of sources available in a jiffy, our attention span has consequently diminished and with it, our brain's productivity. Couple these short attention spans with the distractions provided at our fingertips and researchers have seen a draining of our brain power. Our short attention span on social media has led our brains to desire instant gratification and quick fixes rather than thorough thinking or a DIY mentality. Even watching videos on social media negatively affects our concentration.
The fire & brimstone tone is over with ("I just wanted to state facts!" squeals the impish Carson).
How can marketers adjust?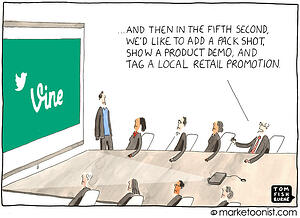 Cramming as much information into as little space or time is unproductive and messy. To consumers, this comes across like those sped up ramblings of terms and conditions found at the end of radio spots.
Succeeding in getting your message across to those of short attention span on social media will mean creating quick media like Vine. Don't cram your laundry list of product benefits, rewards opportunities, etc. into such a small medium. Remember, it's more about your audience, less about you.
Damn the short attention span?
Social's effects on our brains has become an increasingly important research topic. We may still be years out from definitive evidence, but you can see it for yourself if you've noticed a change in your attention span on social media and elsewhere.
How can we readjust our brains?
Is online media damning the evolution of humanity?
Let us know in the comments below.