I like this idea ... a lot.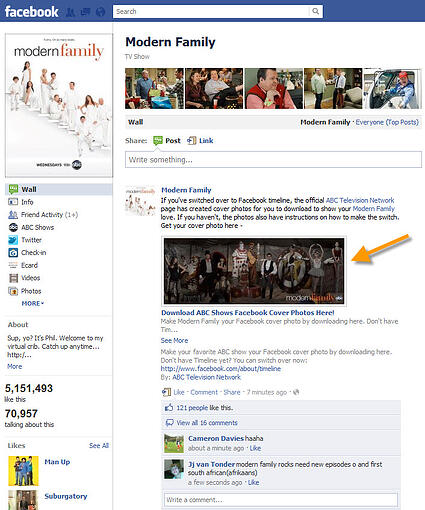 Modern Timeline
If you're like Sarah and I, you love the Wednesday night antics of ABC's hit series, Modern Family. Maybe we like it because our family, in a sense, is anything but traditional. At any rate, it's damn good comedy.
When I saw that Modern Family had set up a Facebook page for the show, I couldn't resist clicking through to see what it's all about. The first thing I landed on was this update, sharing a customized (and mind you, custom sized) branded image that Facebook junkies everywhere can adorn as their cover photo on the new Facebook Timeline layout.
While the consumer-driven verdict is undoubtedly out as to whether or not Timeline is a good move or not, I thought this was a neat approach from ABC to generate awareness for the show by tapping the advocates inside of their fan base. Sure, the 5 million and change fan count is a bit skewed. Always remember that anything popular on television will have a built-in social fan base from the get go.
What appeals to me most about ABC's approach is that this cost virtually nothing to produce. Chances are that the folks at ABC have graphic designers on staff to do their bidding.
Your Turn
Could you make something like this work for your business? Just how would you pull it off?