I was helping my younger brother record his ice bucket challenge today, and while he was going through what he was saying, it donned on me that the folks who challenged him hadn't mentioned donating or even why they were doing the challenge.
Has the message been lost for some people? How can The ALS Association make sure that all challenge participants are raising awareness and donating?
[Note: donate here!]
About the #IceBucketChallenge
Quite literally, the ALS #IceBucketChallenge has soaked the United States. Between July 29 and August 17, 2014, The ALS Association has received $13.3 million in donations from existing donors and over 259,000 new donors. Compare that to the $1.7 million raised during the same time period last year, and it appears the challenge is an astounding success.
But could it have been (and be) better?
Why You're Not Really Helping
In a recent article in The Huffington Post, Ben Kosinski noted that the challenge has "done a tremendous job at getting people to talk about a truly debilitating disease."He goes on mentioning our "slacktivism" is self-serving; we're not actually fundraising.
The ice bucket challenge has achieved virality, and it's not yet saturated. However, how can this virality be of more value to The ALS Association?
A Lesson From Movember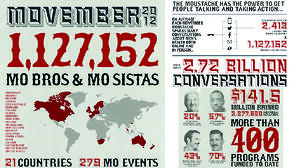 Looking and listening at the various ice bucket challenge videos, I noticed many of them do not mention the participant donating or that there is a philanthropic component to the challenge.
Let's take a look at Movember, a tenured and successful annual fundraising campaign. In Contagious, Jonah Berger uses it as an example of the mantra "built to show, built to grow." The Movember Foundation succeeds because they figured out how to make the private public. "They figured out how to take support for an abstract cause — something not typically observable —and make it something that everyone can see," says Berger. They've gone as far as to create an app!
How can The ALS Association make more than just awareness spread?
3 Ways to Make the ALS #IceBucketChallenge Better
The problem — if we can really even call it that — is the message to donate has been lost in many of the challenges.
Here are some ways The ALS Association can keep the message front and center:
ALSA.org must develop a standard template for Tweets and Facebook posts for itself and all of its affiliate members to promote on their social media accounts. Challenge participants can in turn use this same template.
On the home page of ALSA.org, feature a graphic of a three-step How To Do the ALS #IceBucketChallenge: Donate, Dump ice water on your head, call out others to donate.
Why is number three in the above list blank? So you can fill it in!
What are some ways you think can help increase donations through the ice bucket challenge?
Let us know in the comments below!