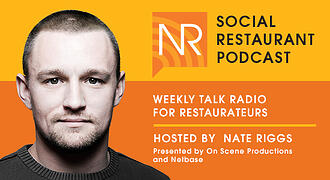 In October if 2013, CNBC reported that major American private equity firms have been pouring money into an early stage restaurant industry segment that is poised for explosive growth over the next decade.
If you guessed Frozen Yogurt, you are dead on! "FroYo"— as the product often is called by a growing number of fans — has grown in part because customers prefer a healthy alternative to ice cream and other calorie-heavy desserts.
In episode #036 of the Social Restaurant Podcast, I welcome Dan Kim, Founder and Chief Concept Officer of Red Mango. His brand and company have won more industry awards and honors than any other segment player, including being rated number 1 in the FroYo category by Zagat in 2011.
Dan and l discuss his journey as a food service entrepreneur, his personal use of social media as an executive ambassador of his brand and much more. You don't want to miss this interview with Dan!
Go ahead, turn up the speakers, click play and listening to episode #036 of the Social Restaurant Podcast.
What You'll Learn During the Interview
How a background in investment banking can provide a foundation for how to launch your own startup.
Learn what a day in the life of a social executive looks like and how you can model Dan's Red Mango social strategy for your own brand.
How to achieve social fluidity by integrating your brand's social strategy into your personal social accounts.
Understanding that your brand advocates are out there and that you just have to allow them to discover your brand by themselves.
The benefits of capitalizing on the "food porn" trend.
Please Support Our Sponsors
Social Restaurant Podcast is made possible by On Scene Productions and Netbase. Please show them your support!
Listen Now
[Tweet ""It's not about what your customers want today, it's about what they want tomorrow." @DanKimRedMango"]

Leave Us a Voicemail
Did something from the show strike a chord with you?
Go ahead and use our Speakpipe widget to leave the producers a voicemail with your comments! We'll try to feature it on next week's show!

Additional Show Resources and Notes
I'm always excited about the talent of our guests on the show, but I start the show off by saying how I've used Dan as an example in many of my presentations. Learn more about how social executive has grown his frozen yogurt franchise here.
Know the pain of sitting near a loud talk or someone who chews with their mouth open? What warrants an operator to intervene when dealing with one of the Worst People to Sit Near in a Restaurant? Dive into the article Sara and I discuss during this week's news.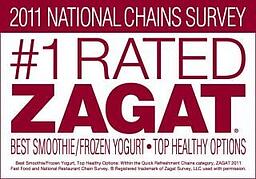 Dan and the rest of the FroYo team have made quite a name for Red Mango. With recognition such as the #1 "Best Smoothie/Frozen Yogurt" and #1 for "Top Healthy Options within the Quick Refreshment Chains" both by Zagat, they have won the tastebuds of many Red Mango Fanaddicts!
What's it like to be 26 and be one of Red Mango's most successful franchisees? Learn how Samantha Goldsmith finds success.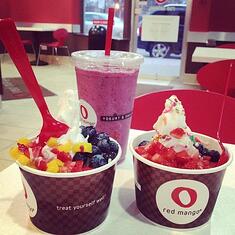 Dan talks about the recent launch of Red Mango's Juicing Program. Learn more about what's to come in 2014 and beyond for the franchise.
Want to keep up with this social executive? Follow Dan on Twitter, Instagram and Facebook.
Like Us Facebook
If you like what you are listening to on the Social Restaurant Podcast, why not head over to our official SRP Facebook page and like is there too.
Our Facebook fans will get continuously receive special insider tips, show supplemental materials and the chance to have back channel conversations with Nate, show guests and content sponsors.