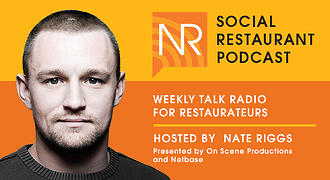 A 2005 study conducted by researchers at The Ohio State University found that while a clear business plan and strategy is important, the most successful restaurant owners all had one thing in common -- a well-defined concept.
But what makes a concept well defined? The researchers point out that not only do well-defined concepts provided a quality food product, they also deliver on a solid operating philosophy, which encompasses business operations as well as employee and customer relations.
In episode #035 of the Social Restaurant Podcast, I welcome Liz Lessner to the show. Liz is one of Columbus, Ohio's premiere restaurateurs, developing a family of some of the most popular local eateries in our great city. Her concepts include everything from hotdog joints to clandestine pin-up girl-themed pubs.
Liz and l discuss her journey as a food service entrepreneur, the importance of site selection and what it takes to develop restaurant concepts that generate local buzz.
Go ahead, turn up the speakers, click play and listening to episode #035 of the Social Restaurant Podcast.
What You'll Learn During the Interview
The inspiring role restaurants can play in revitalizing cities.
What Midwest cities, such as Columbus, can offer first time restauranteurs, in terms of climate and customer support, that may not be readily available in other locations.
How to engage and develop relationships with the neighborhood residents when opening a new restaurant.
The advantages of encouraging restaurant managers to get involved in their communities, pursing areas they care about.
Why getting a job in the industry can serve as the best preparation for opening your own restaurant.
Please Support Our Sponsors
Social Restaurant Podcast is made possible by On Scene Productions and Netbase. Please show them your support!
Listen Now
[Tweet ""The element of breaking bread is so important to me." - @lizlessner"]

Leave Us a Voicemail
Did something from the show strike a chord with you?
Go ahead and use our Speakpipe widget to leave the producers a voicemail with your comments! We'll try to feature it on next week's show!

Additional Show Resources and Notes
Interested in debunking the myth that restaurants don't actually fail at a rate of more than 90%? Check out the 2005 study conducted by The Ohio State University in Cornell Hotel and Restaurant Administration Quarterly I introduce the show with, to learn about why restaurants actually fail.
Are you making the most of your restaurant's happy hour? Learn more about Technomic's study that Sara and I discuss in this week's restaurant news to gain more insight on consumer drinking habits.
The Columbus Food League "go together like sweet potato fries and spicy mayonnaise." Visit their site to learn more about Liz's family of six independent restaurants.
Columbus is becoming a top foodie city! Check out Trip Advisor's review of the 1,934 restaurants in Liz and my's hometown.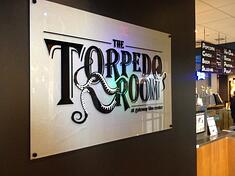 Liz mentions The Torpedo Room as the newest concept to join the Columbus Food League. Located at the Gateway Film Center on Ohio State' campus, it is a Jules Verne-inspired dining spot.
Want to learn another tip or two from Liz? Learn why she made The Metropreneur's 2013 Entrepreneur of the Year
Like Us Facebook
If you like what you are listening to on the Social Restaurant Podcast, why not head over to our official SRP Facebook page and like is there too.
Our Facebook fans will get continuously receive special insider tips, show supplemental materials and the chance to have back channel conversations with Nate, show guests and content sponsors.