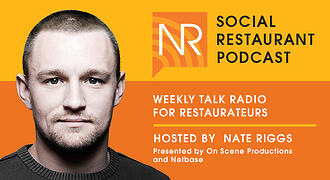 When you walk into your favorite lunch spot, do you notice what's hanging on the wall? What about the carpet, or the upholstery in the booth where you sit to eat your lunch?
My guess is, probably not – but did you know that all of those design elements absolutely have an effect on what you order and why?
---
Check out last episode with Chris Arnold and Chipole farmed and dangerous.
---
In episode #032 of the Social Restaurant Podcast, I welcome Geraldine Blanchot, Co-Founder of Pattern Pod. Geraldine and her partner Kristen Dettoni have founded a startup company that works with restaurants and retailers to help blend consumer psychology with great design to create an environmental experience that entices your customers to buy more, and keep coming back.
Geraldine has spent her career as a designer, traveling the world to get inspiration for the patterns, colors and textiles that help brands and locations stick in the mind of the consumer.
It's fascinating stuff to ponder, and I know you'll think differently about your restaurant environment after listening to this interview. Go ahead, turn up the speakers, click play and listening to episode #032 of the Social Restaurant Podcast.
What You'll Learn During the Interview
How color theory works and why you need to be aware of how you choose colors in restaurant design.
Tons of examples of good design in restaurants and what you can learn from their examples.
The science behind patterns and how they affect brand perception and buying behavior.
Some things you need to consider when purchasing textiles for your restaurant.
How Pattern Pods is changing the way restaurants source environmental design elements.
Please Support Our Sponsors
Social Restaurant Podcast is made possible by On Scene Productions and Netbase. Please show them your support!
Listen Now
[Tweet ""When it comes to food, blue is actually regarded as the least appetizing color." via @patternpod"]
Leave Us a Voicemail
Did something from the show strike a chord with you? Go ahead and use our Speakpipe widget to leave the producers a voicemail with your comments! We'll try to feature it one next week's show!
Additional Show Resources and Notes
In this week's news, we launch a brand new eBook entitled:
Social's Favorite Multi-Unit Restaurants -- Social Analytics and Consumer Insights About Top Restaurants.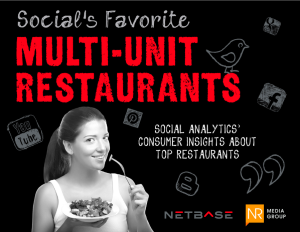 Using social media analytics provided by our sponsor Netbase, we selected four of the most popular restaurant brands on social media and did a deep dive into the data in order to develop useful insights pulled from hundreds of thousands of Tweets, Facebook updates and other social interactions related to each brand.
The brands we looked at included:
Panera
Fazoli's
Firehouse Subs
Chipotle
I think you'll find some of the findings pretty surprising.
If you struggle to figure out how else social media can work for your restaurant system outside of simply pushing out content and discounts, download our eBook.
You'll find lots of helpful tips and recommendations for each example, and our hope is that you will come away with new ideas of how to apply social media intelligence can support strategic decision making in your brand.
And, as always, our sincere thanks to our partners at Netbase for providing the cool software that empowered the social media data collection! Please show them your support!
Like Us Facebook
If you like what you are listening to on the Social Restaurant Podcast, why not head over to our official SRP Facebook page and like is there too.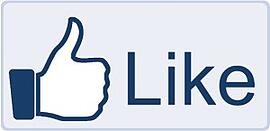 Our Facebook fans will get continuously receive special insider tips, show supplemental materials and the chance to have back channel conversations with Nate, show guests and content sponsors.