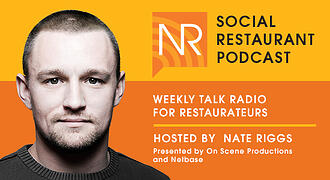 How important of a role does brand play when growing a franchised restaurant system? And, what about content marketing?
My guest this week believes this all works together to create a key formula that is critical to success. And in his system, he sits right in the middle of the cross-section between the two leading the charge for explosive growth. He knows his stuff when it comes to content marketing for franchised restaurants.
In episode #029 of the Social Restaurant Podcast, I talk with Matthew DeBusk, Vice President of Brand for Great Wraps, an Atlanta-based concept with only one corporate-owned location.
Matt and I discuss everything from brand and franchise development to website development and also how to build a sustainable content program that mixes local-level content to top down stories.
Go ahead, turn up the speakers, click play and listening to episode #029 of the Social Restaurant Podcast.
What You'll Learn During the Interview
The role of a brand's personality and why it's crucial to a franchise's success.
Matt's predictions on why fast casual, over QSR, is the way of the future.
How looking for new franchisees can help you to better define your brand.
The characteristics of a bright franchisee - knowledgable, engaged, personable, business-oriented and in love with the brand and the direction of the company.
Why standard corporate speak is a thing of the past and how an engaged ownership of a company can allow your customers to better know your brand and its people.
Please Support Our Sponsors
Social Restaurant Podcast is made possible by On Scene Productions and Netbase. Please show them your support!
Listen Now
[Tweet ""If you engage your audience with fresh, original content, they'll always go back to your brand.""]
Leave Us a Voicemail
Did something from the show strike a chord with you? Go ahead and use our Speakpipe widget to leave the producers a voicemail with your comments! We'll try to feature it one next week's show!
Additional Show Resources and Notes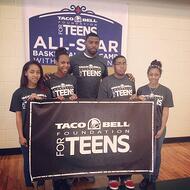 In this week's restaurant news, Sara and I discuss a QSR Magazine article titled "Taco Bell Foundation for Teens Donates $120,000." Like them on Facebook for more information.
Want to get a sneak peek at Great Wraps' redesign? Here's a picture of their new store's rendering. Keep an eye out for what's to come with Great Wraps and its new branding, slated to launch in March.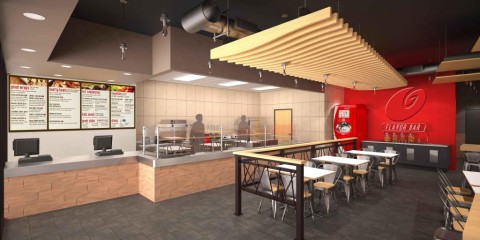 Matt applauds Head Chef Jason Moore for his work in creating Great Wraps' "healthy indulgence" menu items. Connect with Jason to learn more.
Want to learn more about Great Wraps' franchise business model? Check out their website for more details
Like Us Facebook
If you like what you are listening to on the Social Restaurant Podcast, why not head over to our official SRP Facebook page and like is there too.
Our Facebook fans will get continuously receive special insider tips, show supplemental materials and the chance to have back channel conversations with Nate, show guests and content sponsors.