The media landscape has fragmented in a big way. And because of this, what
used to be a clear process for creating PR ad media relations outreach campaigns has also shifted. What is your brand to do in when the public now has so many media sources where they can find information?
My guest this week lives and breathes this challenge every single day. She and her innovative firm have also helped brands like Chic-Fil-A, Panara Bread and others to combat this challenging landscape head on and get their messages out to the masses of customers who now consume media more frequently than ever before, often times from the smartphone they carry in their pants.
In episode #027 of the Social Restaurant Podcast, I talk with Kate Finley, CEO of Belle Communications, a Columbus Ohio-based public relations firm that operates on a virtual agency model. Through an integrated approach, they combine pr and media relations with social media and content marketing to help startups, CPG brands and speciality food brands.
Kate and I discuss everything from agency business models, this past week's Super Bowl marketing campaigns to Chipotle's approach in releasing their original, Hulu-syndicated series, 'Farmed & Dangerous'.
Go ahead, turn up the speakers, click play and listening to episode #027 of the Social Restaurant Podcast.
What You'll Learn During the Interview
The importance of breaking down separate silos to perform and operate through an integrated approach.
Why providing tailored, customized meal options can create a better experience for your customers.
Characteristics virtual agencies need to have to allow brands to overcome stereotypical fears of these types of pr companies.
Learn how media relations has changed but how its only stayed true to its traditional model.
How implementing transparency can create opportunities for your restaurant brand.
Please Support Our Sponsors
Social Restaurant Podcast is made possible by On Scene Productions and Netbase. Please show them your support!
Listen Now
[Tweet " "Everyone needs food. People enjoy talking about food and experiencing it. This industry is so fun." - @kateupdates"]
Additional Show Resources and Notes
In this week's restaurant news, we discuss an article from AdWeek titled "Dunkin' Donuts' New Vine Spots Play on Super Bowl Memories." Here's one of their three videos. What do you think? Were these videos and hit or a miss? Share your thoughts by using the Speakpipe comment tool.
Kate talks about how she's embraced the Paleo lifestyle while also being a foodie. Read Kate's personal blog - Kate Updates: Live. Happy. Healthy. - to learn more about her experiences.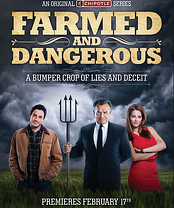 We praise Chipotle for their marketing efforts. Watch more of the trailer of for their upcoming Hulu series, Farmed & Dangerous, to learn more.
Like Us Facebook
If you like what you are listening to on the Social Restaurant Podcast, why not head over to our official SRP Facebook page and like is there too.
Our Facebook fans will get continuously receive special insider tips, show supplemental materials and the chance to have back channel conversations with Nate, show guests and content sponsors.