Email marketing is no stranger to the restaurant business. Why? It's incredibly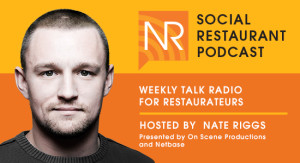 effective at driving up guest counts and opening wallets.
But what comes next?
What other value can restaurants get from their at times, vast databases of customer information that typically start with permission to connect with a guest via a single email address?
My guest this week has been thinking and acting on that question for his entire career. In fact, he was so passionate about the opportunities that technology could bring to the industry that he left his job as an operator to found one of the most well-known marketing solutions companies in the industry.
In episode #016 of the Social Restaurant Podcast, I talk with Scott Shaw, CEO and Founder of Fishbowl, the leading provider of marketing software and services to the restaurant industry.
Scott is a visionary leader who spent 17 years spearheading three successful start-up foodservice companies before founding his company in 2000.
He is a frequent guest speaker at key industry events, most recently at the Restaurant Finance and Development Conference where he participated in the panel "Changing IT and Marketing Platforms in Restaurants: What You Need to Know to Stay Relevant."
Scott and I go deep, talking about everything from building consumer trust, the ins and outs of restaurant CRM, trends toward smartphone adoption and personalized, geo-targeted marketing.
I can guarantee that this is a conversation you won't want to miss this interview. Go ahead, turn up the speakers, click play and listening to episode #016 of the Social Restaurant Podcast.
What You'll Learn During the Interview
How guest trust translates from the front of your front line employees to your brand's email marketing database.
How to gauge your email subscribers' tolerance for offers and messages, and determine the right frequency of your campaigns.
How legacy systems can affect software as a service integration, and how to avoid pitfalls and mistakes early on.
Learn about Fishbowl's newest features and initiatives for 2014, including Offer Manager and POS integration, Guest 360 and how Great Eats can help you boost your Restaurant CRM database through affiliate marketing.
Please Support Our Sponsors

Video content is changing. Not only in the way it's consumed, but in how it's produced. At On Scene Productions, we develop multi-channel video content strategies to help clients fill the entire sales funnel, from introduction to education to purchase >> LEARN MORE

Don't let your shift hit the fan! Use ShiftNote, a web-based manager's logbook and employee scheduling tool. Replace messy paper and files with an easy-to-use online system. >> LEARN MORE

Listen Now
[Tweet ""Treat your guests with the same respect online, as you would if they were sitting at your table""]
Additional Show Resources and Notes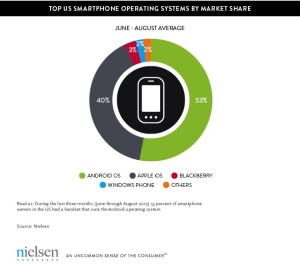 During the show, I mention some research conducted by Nation's Restaurant News as well as Nielsen.
Nielsen's infographic you see on the side comes from their September 2013 study.
Overall in the U.S. smartphone market, Android remained the leading mobile operating system, with 53% of smartphone owners running Android handsets, while Apple remained the largest smartphone manufacturer (40% of smartphone owners).
Some of the stats from this study are intriguing:
81% of young adults aged 25-34 carry smartphones.
70% of teens aged 13-17 are now uses smartphones.
Mobile users over the age of 55 remain the minority of smartphone owners. but are poised for growth.
In an earlier study, NRN conducted a consumer survey that explored attitudes around personalized marketing, oftentimes enabled by the adoption of restaurant CRM. The study found that:
68% of consumers will order from a restaurant if they received customized marketing messages that referenced past restaurant patronage.
78% of consumers said an email from a restaurant would motivate them to go to that restaurant.
69% of consumers said an email from a daily deal provider would motivate them to go to the restaurant featured in the daily deal.
If you've listened to Scott and I talk, you'll see that Fishbowl is looking at all of these angles in their planning for 2014. Very interesting, indeed...
Like Us Facebook
If you like what you are listening too on the Social Restaurant Podcast, why not head over to our official SRP Facebook page and like is there too.
Our Facebook fans will get continuously receive special insider tips, show supplemental materials and the chance to have back channel conversations with Nate, show guests and content sponsors.