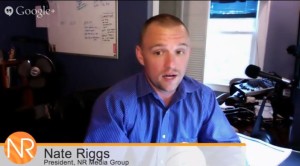 In this week's show, Brandon and I comment on some news and examples of chain restaurant systems that are implementing mobile and tablet technology to streamline their operations and guest services.
We feature some of the great work Quaker Steak and Lube is doing with our friends at Red Book Connect and their HotSchedules app. We also discuss some of the rollouts from Chili's and Panera that may just take humans out of the service mix, depersonalizing the dining experience.
This is a hot debate so tune in, watch the show and add your opinions by leaving us a comment below.
1. Quaker Steak and Lube has implemented Hot Schedules to bring efficiency to scheduling their restaurants.
2. Hi, I'm a Tablet. I'll Be Your Waiter Tonight, from the New York Times, discusses how restaurants like Panera and Chili's have joined the restaurant tech crowd with tablets and mobile ordering.
Watch the video to check out this week's regular banter.

This Week's Hangout Notes and Resources
In an opinion piece from Yahoo News, Julia Bainbridge argues that the addition of these technologies is depersonalizing the dining experience.
Check out the article to weigh in on whether you support the tech overhaul in restaurants or prefer to order from a human.
For more on the technology used in restaurants, see Social Restaurant Podcast #044 with Anthony Lye of Red Book Connect. Red Book Connect is the owner of Hot Schedules, the app that restaurants like Quaker Steak and Lube are utilizing to add efficiency to their scheduling.
For more on technologies like Kallpod that assist the service segment, see this post on why Kallpod works, and also check out our thoughts on what they did at the NRA show in a previous TWIRT episode.
Tune in Next Week
Brandon and I will be back with another episode next week. You can tune in on Thursdays here on my blog to catch the archived recording. If you'd like to watch and participate in the live Google+ Hangout, we'll be broadcasting at 11AM EST on the This Week In Restaurant Technologies YouTube Channel.
Follow up on some of these articles and let us know what you think by leaving a comment below!