An unpopular opinion I've shared before is that you shouldn't be building any technology solutions, especially for a small business, from scratch. Unless, of course, that custom tech is your flagship product or you're Mark Zuckerberg circa 2004.
First of all, get yourself a solid marketing automation technology. HubSpot is a great option for about a million reasons, almost all of which we've covered in a blog post at some point (where have you been?). If you still need convincing, you can learn more about HubSpot here.
One of the reasons why HubSpot is such a great option is that it can tackle your sales and website hosting needs, as well as marketing automation. However, if you're not feeling HubSpot CRM or are committed to another (annual contract, anyone?), another great thing about HubSpot is that it has integrations GALORE.
With HubSpot integrations, you have so many options to integrate technologies from all over your tech stack, from CRM to CMS to video marketing platforms, and more. We'll explore some of our favorites here.
Our Favorite HubSpot Integrations
Numero Ono: HubSpot -> Shopify Integration
With updates to this integration, renamed as the Ecomm Bridge, being one of the most talked about things from INBOUND 2017, I had to give it the place of honor at the top of the list. However, for those of you not interested in testing your luck in the Beta, there's an existing HubSpot -> Shopify integration available now.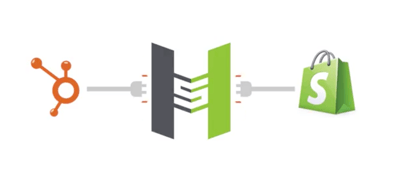 This HubSpot integration is great for those small E-Commerce businesses that built their entire business, website and all, on Shopify and are now looking for more. Don't worry, you didn't know any better at the time, no one judges you. And Shopify is great for product pages and other E-Commerce things. But, honey, it's not great for your website.
This integration allows you to sell, sell, sell on Shopify and create and/or update contacts in HubSpot. It also allows you to use the data from abandoned carts in Shopify with the Email Marketing capabilities in HubSpot to send out those Abandoned Cart emails that we all don't want to admit work like a charm.
Additional functionality includes:
Segment your E-Commerce contact database by product-type, lifetime revenue, average order value, and more
Send out personalized product review requests and post-purchase follow-ups
Dedicated support from hubshop.ly
Basically, if you're running a profitable business on Shopify and have ever thought to yourself, "Is there more than this?," you need to explore this HubSpot Shopify integration as an option.
2. Native Salesforce Integration
This HubSpot integration can be a total lifesaver for a lot of organizations. Normally, we at NR Media Group champion the single-system approach, but in a lot of cases, like when there are HIPAA requirements at play, that just isn't possible. Cue the native HubSpot Salesforce integration.
This integration is very customizable and can be a two-way or one-way integration. In the case of a healthcare organization, for example, the PHI-related interactions can stay solely in Salesforce but the marketing interactions can travel between the two.
Or, if you're the kind of small business that does have a pretty customized sales process, you can get as complex as your little heart desires in Salesforce and have the information you need pull into HubSpot, and vice-versa.
This integration allows you to:
Report sales and revenue numbers in HubSpot with all of your marketing data

Share information like marketing email opens and clicks, page views, and more with your sales team

Get set up with a few clicks, no developer needed
---
Want to learn more about how you could use marketing automation and a CRM in your healthcare or non-profit organization? Check out our case studies.
---
3. Data & Reporting Integrations
HubSpot offers a pretty robust set of reporting tools, but if you aren't crazy about paying for the Reporting Add-On, or you just want more, there are several different reporting softwares that integrate with HubSpot.
A few we've tried include DataHero, DataBox, RivalIQ, Klipfolio, and Atomic Reach. The one we've hung our hat on the past couple of years has been RivalIQ. We dig the competitor metrics, the robust social media reporting options, and the fact that the software has been around for a minute and isn't super glitchy.
However, our reporting requirements are pretty obnoxious, so don't shy away from any of the above integration options if you're looking for additional reporting.
These integrations allow you to pull in your run-of-the-mill HubSpot metrics, like Blog Views, Email Opens, etc. into the same reporting system as the insights from other losers systems that don't integrate with HubSpot.
A few benefits to this integration might be:
Having one dashboard with all the KPIs for the quarter from all of your different systems. So when your boss pops their head over your shoulder and asks you for an update for their weekly meeting, you can just send them a link to the dashboard, and then cheerfully and without sarcasm remind them that they can look and see for themselves. **deep breath**
If you don't use the single-system approach for your marketing efforts (have we taught you nothing?!) you can have open and click rates for your blog subscription emails from MailChimp right next to your click-through-rates on the CTAs within that blog post. Data, meet actionable insights.
The fewer logins your boss (and you) have to remember, the better.
4. Video Marketing Platform Integrations
Video marketing is the new IT thing. Or more accurately, if you're not using video to market your organization, you're about 5 years behind. However, producing video can be a huge investment, so you better have the data to show for it.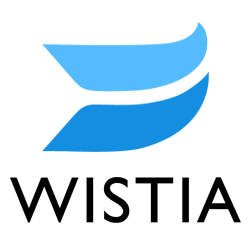 HubSpot offers integrations with two of the top video marketing platforms currently on the market: VidYard and Wistia.
NR Media Group has explored both, and we've liked aspects of each one. The benefits of the integration where video marketing is concerned is focused on how the user interacts with the video. Most video marketing platforms will give you the option to add a form or CTA to your video, but if you don't have the platform connected to a marketing database, what's the point?
By utilizing a platform that has a HubSpot integration, you'll be able to send the form submission from that lead or the data from that CTA click directly into your HubSpot database, which gives you the opportunity to re-market to them. Win.
Other benefits of the integration are:
Visibility into which videos are generating the most interest, and by extension, the most sales.
Insight into how long specific users, or personas, are viewing which videos, where the drop-off point is, and if there seems to be more interest in one video versus another.
Insight into which videos are key for which personas and/or steps in your sales process.
How your audience interacts with your visual content can hold a lot of interesting and important insights, but without the integration, you lose the opportunity to tap into those insights.
5. HubSpot SurveyMonkey Integration
We at NR Media Group are big fans of SurveyMonkey. For some reason, I send out a lot more surveys, quizzes, etc than I ever anticipated I would back when I was in college.
The SurveyMonkey HubSpot integration does the wonderful job of pulling in all the responses to your surveys and either creating or updating your current contacts with those results.
Be warned, there are a few painful aspects of this particular integration. You have to include the email address field as the first field, every single time. And it has to be the default email address field question, I think. I'm still not even 100% certain on that because it can be a little glitchy.
However, the pain is worth it though, because not having to manually populate your contact records with important results is ah-mazing.
The big uses for this integration would be:
Pulling in results from a post-purchase feedback survey
Pulling in information helpful to your sales team, like the topic of discussion at an event that the attendee was most interested in
Collecting NPS Survey results from current customers
Adding a contact to a Smart List or Workflow based on their response to a question
Being able to collect that data in something as low-touch as an emailed survey and then having it automatically pull into your marketing database could be a huge opportunity for your organization. Listening to the prospects and customers is always good. Promise.
6. HubSpot Eventbrite Integration
If your organization regularly, or irregularly, holds events, you've probably at least heard of Eventbrite. It's a great tool for ticket sales, organizing events, and more.
The HubSpot Eventbrite integration allows you to pull in event registration information for your registrants. This not only creates and updates the contacts in your database, but also allows you to create lists and workflows based on event registration, event attendance, and more.
Some ways to use this integration would be to:
Create a list of event attendees to receive an event feedback survey
Send out targeted invite emails and know exactly which recipients registered
Create a list of all the registrants from past events and market relevant services or even future events
This integration could be a game-changer for your event marketing strategy, and bonus points because it's super easy to set up!

Bonus Integration: Zapier
If you haven't explored Zapier, you're missing out. Zapier is a system that allows you to connect one piece of software with another. In the case of this blog post, Zapier would allow you to connect HubSpot, or HubSpot CRM, with at least a hundred different systems.
Zapier has connectors with pretty much any software solution you could want. It has the big ones, like Emma or Constant Contact (email marketing); Xero, QuickBooks, and FreshBooks (accounting); Pipedrive and Zoho (CRM); and WooCommerce and Megento (E-commerce).
It also has integrations you didn't dare to dream about, like drip email provider SharpSpring or fundraising software Donately.
Zapier is free for limited and/or personal use (yes, some of us find a use for technology integrations in our personal lives), but if you're planning on enabling a business process or function with a Zapier integration, plan on needing to pay for it. But, the monthly cost will still be less money and effort than having to build and maintain your own custom system. Which is what it's all about.
We've shared ours, now you share yours! What are your favorite HubSpot integrations? Are there any other integrations that we should explore? Let us know!