Any time a customer or client complaint presents itself, there is an opportunity for exceptional service. Promptly and effectively solving issues is a big part of delighting your customers and dropping the ball on a request can leave them unhappy and break down the trust you worked hard to earn.
But issues aren't always easily solved. Some customer inquiries can't be answered on the spot some may require multiple parties to be involved.
Whether the request comes in via form, email, or call, your team has to be able to identify and resolve the issue as quickly as professionally possible – this means keeping your customer requests organized and tracking their progress.
HubSpot has recently introduced the Tickets feature in the Service Hub that will allow HubSpot users to create, collect, and process client and customer injuries and issues with full team visibility. Tickets offer segmenting, prioritization, and tracking of customer requests – all within an easy to use drag and drop dashboard just like the deals pipeline HubSpot Sales users are accustomed to. Using the HubSpot ticket system, you can record and track customer issues as they come in to keep them prioritized and track them to analyze trends over time.
HubSpot Tickets bring some exciting features to the table, such as: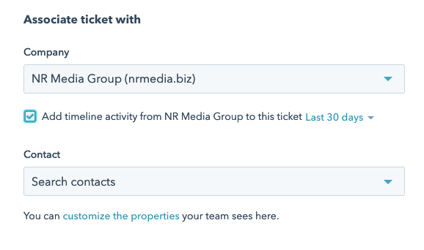 Ticket Dashboard: Create a customizable support pipeline, just like your sales pipeline, with easy drag-and-drop categories. You can create and customize multiple ticket pipelines for multiple business operations.
Automation: Tickets can be created from email or form submissions and trigger workflows to make sure tickets get to the right party. Use templates and sequences for easy customer responses for disaster recovery emails or follow-up responses. Create easy step-by-step email templates that guide your users through a process to solve their issues without a member of your team.
Service Essentials: Set priorities for tickets so the most important issues get tackled first.

Personalization makes sure you are delighting your customers with a warmer and less canned response to their request.
Data Collection: Review ticket reporting to gain visibility to trends in your service inquiries and set up automation based on your data.
CRM Integration: Perhaps the most exciting advantage to using HubSpot Tickets versus other ticket management systems, is that Tickets integrates with the

HubSpot CRM

to allow tickets to be associated with a company or contact record. Assign a ticket right from the client or contact record and keep track of the service history over time.
For companies that offer a product, the use cases for tickets are fairly obvious - customer inquiries and issues to be solved can be organized and even more information gathered with the integration of tickets and the HubSpot CRM.
But, there are some powerful benefits that service companies can obtain from utilizing Tickets. How can a service company best use tickets to help them streamline their customer service, and even their internal operations?
Internal Uses for Tickets
Because pipeline stages can be customized, there are a variety of ways teams can use tickets beyond managing customer issues. Below is a handful of the ways businesses can use HubSpot tickets to support internal operations:
Organize Client Requests: Often times, our clients reach out for help on a task that is out of scope or may warrant a new project beyond their usually scoped services. Even though we aren't resolving their request right away, it needs to be tucked away for further processing. Creating a pipeline for out-of-scope client requests can house good ideas for later and make sure they stay on radar with the right party.
Internal Project Management: If your team has taken on a project that requires multiple people and tasks, a ticket pipeline could keep your team on track and lend visibility to the progression of the project. Create a pipeline for the project and lay out all the tasks to be completed. Associate company contacts or team members and assign tasks as needed. Drag and drop tickets (tasks) as they are worked and see what is falling behind.

Internal Sprint Organization: If you are a company who completes their work in sprints, a ticket dashboard is a great way to lay out and work tasks. Create a dashboard with your stages of work (triage, in progress, completed, etc.), then drag and drop tasks as they are processed. If you want to house all client work in one dashboard, assign companies to the task so the team knows which client they are for. Or, if you are especially ambitious, create a pipeline for individual clients.


Close Communication Gaps: Drops in communication happen when multiple parties are involved in a single task, especially if you have a small team dedicated to customer service inquiries. Using Tickets alleviates gaps in communication by allowing your team to assign people and timelines to tasks as well as automate communication and follow-up responses. Automate a ticket response with your meetings link to expedite the process of scheduling a call and stop the back-and-forth emailing that takes up your team's time.
Create a Hiring Pipeline: If you collect resumes or applications from your website, tickets could help you organize your hiring process. By creating a ticket sequence that's triggered from your hiring form, you can guide applicants through a series of stages as they complete your application requirements. On their contact record, every applicant will have a record of their ticket and all of the activity associated with it.

Data & Reporting: Every company should know how long their services take to complete. HubSpot Tickets offers reporting so you can see how long tickets stay in a deal stage and gather valuable insight to how your business is servicing your clients. Over time, you will have a picture of what trends take place within your organization for any ticket pipeline you have created. Know how long each team member takes to complete tasks and assign according to their strengths. Harnessing this kind of data for internal operations will allow you to maximize capacity on a whole new level.
A Powerful Service Hub
When a customer has an issue, you need to present a timely, well-informed resolution to recover and keep them delighted. Tickets make sure that all of the notes, documents, and activity associated with a customer issue are accessible and organized to deliver the best service possible.
In addition to the benefits tickets offer for B2C companies, B2B companies can fully utilize the power of tickets for their internal operations and client services.
We'll be watching how companies of all industries choose to use tickets, and how teams will utilize it to gain the most ROI on their HubSpot investment.