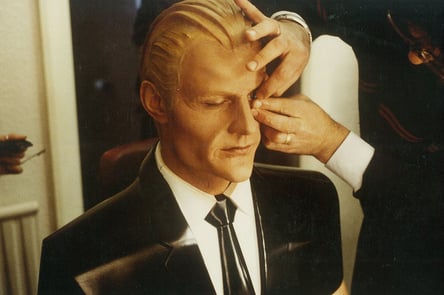 I was a young kid the 80's, but I still remember being completely fascinated by the stuttering, heavily sampled, digitized character of Max Headroom.
Emerging in 1984 and played by actor Matt Frewer, Max represented one of our early mental concepts of what Artificial Intelligence might look like someday.
You can see Matt getting the makeup applied, transforming him into a character that would continue to capture our attention for decades to follow.
Max Headroom went on to carve out a place in the minds and hearts of real humans, starring in everything from major motion pictures, MTV shows and videos, and even a few late 80's Coca-Cola commercials.
Max even made comeback as the personal AI assistant to protagonist Wade Watts in one of my favorite books, Ernest Kline's dystopian future novel, Ready Player One.
Max and the next Hype Cycle
It seems like business culture today is simply bursting at the seams with excitement about AI.
Don't believe me?
Check out your favorite industry conference. Chances are, AI is at least a track, if not the key theme for next big event.
Look at your social media feeds. Industry analysts, media pundits, consultants, and bloggers you follow are all drinking the kool-aid, adding their own opinions to the growing knowledge base online.
The Artificial Intelligence conversation is on the rise. And it's that exact level of hype that makes me want to be cautious.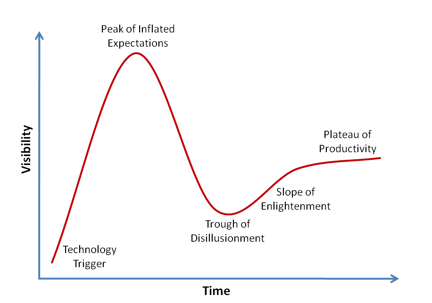 The entertainment industry and mass media have bombarded us with visionary glimpses of AI that look like Max.
But you've seen others too, some of which include terrifying insect-like robots who have transformed their human creators into batteries. Help us, Neo...
I think Kline's concept of AI as a rebirth of Max resonates with me because it's just so damn practical.
Max is nothing more than a skin chosen by Wade Watts to represent his voice activated, highly advanced computer interface inside of the Oasis and in his Columbus, Ohio apartment.
Through simple conversation, Wade's computer can control other devices, access information, and anticipate his needs, freeing him up to spend more time hunting Halliday's Easter Egg. On occasion, Wade's Max is smart enough to lob a joke or insult at the guy when he is slacking off.
But the less exciting truth is we have a long downhill ride and a slog up the slope before Wade's version of Max works in our offices and homes.
Understanding The Types of Artificial Intelligence

Most definitions of Artificial Intelligence or "AI" point to the theory and development of computer systems that are able to perform tasks that normally require human intelligence.
Basically, we want computers that can do what we do so that we don't have to anymore. We want to create. We want smarter machine slaves.
A more complex and eloquent definition can be found in this interview with Stanford Professor, John McCarthy. It's actually one of the more fascinating takes on AI that I have read since getting curious about this stuff.
Where is AI Going Now?
I think a Harvard Business Review article written by Thomas H. Davenport and Rajeev Ronanki in January of this year provides a very clear look at where AI is now and what's foundational for business leaders to understand.
For perspective, Davenport is the Director of Research at the International Institute for Analytics and a Senior Advisor to Deloitte Analytics. His co-author, Ronanki, is the SVP of Digital at Anthem and leads their initiatives towards the adoption of AI across the enterprise.
Based on a study that looked at 152 cognitive technology projects, the article suggests that three classifications of AI emerged. Broadly speaking, AI can support three important business needs:
Automating business processes

Gaining insight through data analysis

Engaging with customers and employees
The authors go on to reveal that Robotic Process Automation or RPA for short, is today's most common application in businesses. So, what does it look like?
RPA is more advanced than earlier business-process automation tools, because the "robots" (that is, code on a server) act like a human inputting and consuming information from multiple IT systems.
In large part, a lot of AI today works in the background to make human tasks easier. We rarely notice it happening unless we remember to look closely. Here are some business applications where you can already see AI at work.
Gmail's mobile app and web browser interface
Google Maps, Waze, or other mapping apps
Ride sharing apps like Uber and Lyft
Marketing automation and CRM software like HubSpot, Eloqua, and others.
The point is, none of those current use cases of AI look anything like Max Headroom.
It's still okay to get excited about AI. Just make sure that when you do, you remember to stay grounded in today.
Where to Invest Today
If you work through that list and and you still find yourself wondering about AI, then start by learning.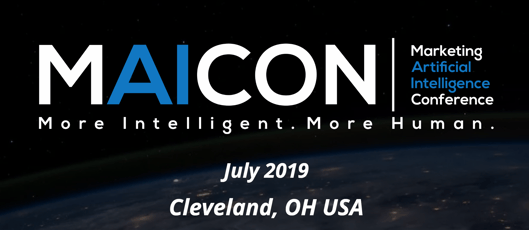 For companies in Ohio and surrounding areas, one opportunity to do that homework is a new conference called MAICON.
Founded by my friend and fellow HubSpot agency owner Paul Roetzer, the Marketing Artificial Intelligence Conference will provide a forum that will skip past the flashy headlines and tech-jargon and get to real dialog about realistic applications of AI for businesses of all sizes.
Over the past few years, Paul has become my go-to source for learning about Artificial Intelligence and how it will apply to marketing, sales and service in the future.
I'm not affiliated with the conference in any way. No plans to speak, no free ticket, nothing. My plan is to attend, participate and learn.
I hope to see you in CLE next summer.