With so many different content management systems available currently it can be hard to decide which is right for your business. I'm here to make that decision much easier for you. Although every platform has it's drawbacks, HubSpot COS excels incredibly well in focusing on one thing - making web design simple and effective.
If you're not familiar with the HubSpot COS, have no fear. COS or Content Optimization System is HubSpot's website platform. Just as they have products for marketing and sales, they also have a platform that allows companies to build and host their websites.
Simply put, the HubSpot COS allows you to build powerful websites that are optimized for every device, personalized for your most unique visitors or prospects, and integrated seamlessly with the HubSpot marketing and sales tools. Let me say that again - HubSpot's COS platform integrates seamlessly with the HubSpot marketing tools and CRM allows your business to closer align marketing and sales.
If that is not reason enough, below are what I deam to be the top 3 benefits of HubSpot COS.
---
Considering HubSpot CRM? Here are 7 of the most Frequently Asked Questions

1. Website Migration
Does your business currently host the website on Wordpress, Squarespace or another platform? Not to worry!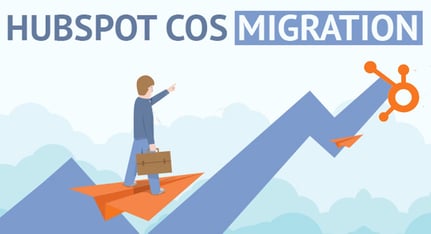 The HubSpot migration team might be the best thing since sliced bread, no exaggeration. This is probably
one of my favorite benefits of HubSpot COS when compared to other CMS systems.
Their migration team will automatically migrate your existing website onto the COS platform.
They literally do all the heavy lifting in migration for you. No need to worry about completely tossing your old site out the window or redoing the whole thing.
It's pretty simple - you send in an a request (with different migration options depending on what you need), wait a few weeks depending on complexity, and bang you're all set up to review your new site in HubSpot. The awesome migration team moves everything over for you and converts it to nice, clean HubSpot COS. I've outline this process in finer detail below:
HubSpot reviews the website that you want to migrate
They want to know exactly the type of website you want to host on COS and every feature that comes along with it. Some features, designs, and functionality cannot be migrated to their COS platform.
Once they have reviewed the site, HubSpot will send you a link to review the site with specific comments about what is to be expected.
Once you give the final approval, they begin to migrate your website.
HubSpot places your migration job in a queue list
This will help you stay up-to-date with where your website is in the process. Just good for keeping an open line of communication between the two parties involved.
The migration is executed
A HubSpot technician will work to migrate your website by creating templates and style sheets that match your existing website. The goal is to create an exact replica (or as close as possible) to your current site.
HubSpot reviews the complete migration and runs QA
You migrated website will be checked and verified for quality before notifying you that the project has been completed.
You will be notified via email that your migration is complete
This stage typically takes 10-21 days after the project was initially created.
You review your new, shiny COS website
Review your new site for any mistakes or changes that still need to be made. Remember, the goal is to have the exact same version of your website produced and hosted on HubSpot COS. But there are a few things to keep in mind.
2. User-Friendliness
HubSpot's COS design training class offers a great background for all the ins and outs of their COS platform and template building. However, most web designers will agree that you really need to actually get in there and start messing around with things for yourself in order to truly understand how to use the system. Fortunately HubSpot COS design makes this incredibly easy to do with how user-friendly it is.
One thing about HubSpot is that it's easy to understand the basics quickly. If you've had any experience with any sort of web design software, no matter how basic, it's not going to take you long to start setting up pages and designing templates how you want them.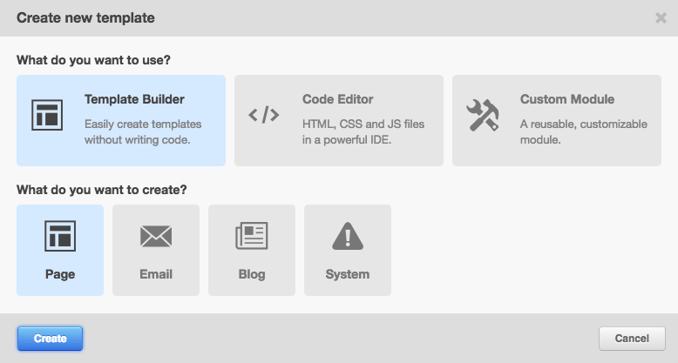 Everything about HubSpot is similar, if you can set up an email template, you can set up any website page, whether it be a landing page, blog post, or even more advanced site pages. All aspects utilize the same template building system and the same tools this is why, in my opinion, HubSpot COS is an awesome place for small to medium sized business to start.
Once you have the basics down there's nowhere to go but up (and there are hundreds of HubSpot articles readily available for more advanced aspects of COS design).
3. Responsive Design
According to Search Engine Land, nearly 60 percent of web searches are on mobile devices. If you're on the market for a new website platform, responsive design must be a the top of your requirements.
The HubSpot COS was built with responsiveness in mind. Never worry about your site's quality on a mobile device ever again.
Bonus Feature
Of course there are more than three benefits to HubSpot's COS platform. One of the bonuses features you'll gain when choosing to host or build your website on COS is the ability to personalize your content.
Not every visitor that comes to your website is the same. Therefore, you should offer different content to each unique visitor. HubSpot COS allows you to do just that. With HubSpot Smart Content, you can personalize content anonymously, or for known visitors, across any website pages, landing pages, forms, and CTAs.
Whether you segment by persona, device, or location, the possibilities of personalizing your website with COS are endless.