So you're new to Inbound Marketing?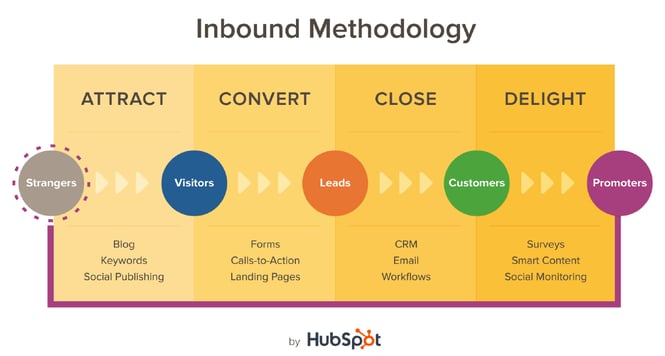 Before you dive into the wonderful world of inbound marketing, there are some key inbound marketing terms you should familiarize yourself with in order to be successful.
Some of these terms might be familiar, while others are foreign— but make sure you check out all 28 inbound terms to set your inbound strategy off on the right foot!
---
A/B Testing
A/B testing is when you are testing two different versions of the same content to evaluate which one converts more traffic for you. This can be done on Call-to-Actions (CTAs) or Landing pages.
Above the Fold
This the part of a web page that is visible without scrolling. It's generally more desirable placement on a website because of the visibility. This trend has become less important in recent years as audiences are becoming more accustomed to the Facebook-feed scrolling pages.
Alternative Text/Tag or Attribute
Alternative text/tag or attribute is a word or phrase that describes an image on the web. Search engines read only the ALT text of images, not the images themselves so add ALT text to images whenever possible.
Blog
Blog is short for web log or weblog. They're usually maintained by an individual or group of people. A personal blog or business blog will usually include regular entries of commentary, descriptions of events, or other material, like photos and video. Want a better idea of a blog? Check our's out!
Bounce Rate/Exit Rate
Bounce rate is the rate at which a visitor clicks away from your page without converting.
Call-to-Action
A call to action is a text link, button, image, or some type of web link that encourages a website visitor to visit a landing page and become of lead. It encourages the visitor to take ACTION.
Conversion Form
A conversion form is a form in which you collect information on your site visitor. Conversion forms convert traffic into leads and collecting their information will help you turn them into leads.
Conversion Rate
This is the number of people who complete a form on a landing page divided by the total number of people who visited the page.
CRM
Customer relationship management (CRM) is a system that manages interactions with existing and potential customers and sales prospects. HubSpot has a fantastic and user-friendly CRM. See what our CEO had to say about it here.
Funnel
The funnel is the process logic as a visitor gets to your page and completes the "transaction." Think of a visitor as someone at the top of your sales and marketing funnel. Your goal is to get them to the bottom of the funnel.
Header
A header is the top part of your blog, appearing before any pages or posts. Headers generally include items such as logos, taglines, and navigation menus, which are meant to set the tone or theme of your blog.
Hyperlink
This is used synonymously with the word "link," it's clickable content within a web page that takes the user to another page, website, or within part of the same page. The text that comprises the hyperlink is referred to as the "anchor text."
Internal Link
An internal link is a link from one page to another on the same website, such as from your homepage to your products page. The goal of an internal link is to bring visitors deeper into your website. See an example here.
Keyword(s) or Keyphrase(s)
These should be used as a topic generator. Picking keywords is the process of determining what topics are most relevant to your target audience or buyer persona and crafting content around those topics. Use them in a creative sense for structural composition, reasoning, and comprehension. They can help you showcase your knowledge in your field.
KPI (Key Performance Indicators)
Key Performance Indicators are the metrics you will look at to track progress toward your goals. Although this is typically measured as traffic, leads, and customers, the language may
Landing Page
A landing page is a website page containing a form that is used for lead generation. It revolves around a marketing offer and serves to capture visitor information in exchange for the valuable offer.
Layout
The layout is how the web page is designed. The term layout was derived from the time when manuscripts were crafted by hand and items were physically laid out to achieve specific communication objectives.
Lead
A lead is a person that transforms from an anonymous website visitor into a known contact part of your business sales cycle. This process occurs as the visitor provides his or her contact information in exchange for valuable content.
Lead Generation
Lead generation is the process of attracting new leads. It is a marketing tactic that drives a person to demonstrate interest in a product or service.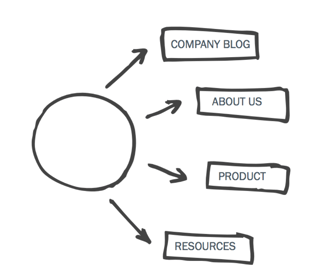 Navigation
Navigation is a web page element, usually located at the top of the page, with links that help visitors to navigate through a website.
Offer
An offer (also known as a Content Offer or Premium Content Offer) is the content that is provided once a lead has filled out a landing page form. Common examples include ebooks, whitepapers, webinars, and kits.
Page Views
Page views is the number of views a page has received.
PPC (Pay-Per-Click)
PPC is an advertising technique in which an advertiser puts an ad in an advertising venue, and pays that venue each time a visitor clicks on his/her ad. Think Google AdWords.
Qualified Lead
A qualified lead is a contact who opted in to receive communication from your company, became educated about your product or service, and is interested in learning more.
ROI
ROI is the return on investment of your marketing efforts. To determine your ROI subtract the cost of an investment from the gain from the investment and divide this by the cost of the investment.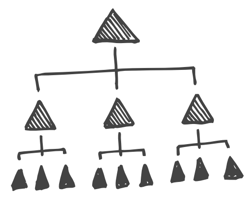 Segmentation
Segmentation is the process of separating your target audience into personas with different needs and preferences. The segments usually reflect their interests and experiences.
Social Media Sharing
Simply put, social media sharing is sharing your content on social media. Your content should not exist in a vacuum — give people the opportunity to share your content for you. A lot of platforms have this built in or at least available as an add-on.
URL
URL is short for Uniform Resource Locator. But what the heck is that? This is the address of a piece of information that can be found on the web such as a page, image or document.
So now that you are more familiar with inbound terminology, it's time to decide on your inbound strategy. Don't know where to start? Let us help!