Not much has changed in the world of higher education. Many institutions use the same tried-and-true systems, tactics, and software to attract new students to their respective college.
But as Hocking College noticed a decline in two-year enrollments due to the upswing of the economy, they knew they needed to implement something drastic in order to gain traction.
Enter HubSpot, Alan McMillan, and NR Media Group...
About Hocking College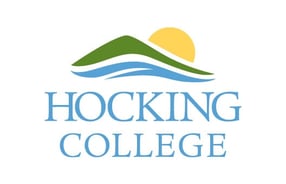 Founded in 1968 in Nelsonville, Ohio, Hocking College offers more than 50 affordable degree programs that are geared towards providing students with the technical experience to get hired into the workforce. Some of the most notable programs at Hocking College include the Natural Resources, Culinary, and Public Safety courses.
Another significant differentiator for Hocking College is that they are one of the few two-year community colleges in the country that offers on-campus housing for their students. This helps students keep costs low if they don't have a place to stay local to the campus, a perk many students take advantage of.
The Challenges Hocking Faced
Although Hocking College had a unique variety of programs, they noticed they weren't meeting their enrollment goals. Some of the key challenges that they faced included:
Their internal systems did not provide full visibility through the sales pipeline, making it difficult for the organization to see where potential students were falling through the cracks of their sales cycle.
Inconsistent and manual communications contributed to the enrollment team having inefficient communication processes.
Lack of sales tools didn't allow the enrollment team to diversify their efforts with the latest tech-savvy generation of students who want a personalized experience.
Changing The Way They Think
Under the direction and coordination of Alan McMillan, Vice President of Enrollment & Student Development, NR Media Group was brought in to consult as a digital partner to revamp the sales and marketing departments.
Hocking College administration quickly saw the benefits of moving towards an inbound strategy and signed with NR Media Group by August of 2016.
The first step of our process was educating the educators.
NR Media Group believes that our clients should not be shackled to us, so we make every effort to get their internal teams trained so they are eventually able to execute inbound strategies on their own. This is done through a regular combination of on-site and web-based training.
In order to begin implementing the software and strategies, we had to ensure that marketing and sales were aligned and people understood why we were making some of the strategic decisions that we were.
In order to accomplish this, we gathered a 200+ person audience composed of faculty, staff, and administration to learn the key fundamentals of inbound marketing and how we could marry HubSpot and Education. Talk about a dream come true!
Implementing the CRM
Once we covered the fundamentals, it was time to begin implementing the software.
The HubSpot software was sold into the college as "a CRM with a marketing software attached", so there was a lot of pressure to get the CRM up and running as quickly as possible. To do this, we followed a strict process.
Step 1: Determine the needs of the enrollment team
At NR Media Group, we believe that before you begin setting up a CRM, you should have a clear understanding of the software you have in place and what it can do. To do this, we met with the enrollment team in the early stages of implementation to discuss their processes and walk them through a demo of the software.
Through this experience, we walked away with detailed notes on the enrollment process at Hocking College, which helped us stage the implementation process for success.
Step 2: Set up and configure the Deals Pipeline
After meeting with the enrollment team, we learned that they have a very long sales cycle. This is because students typically apply to college in their Junior or Senior years of high school, meaning that the sales process can last up to 2-3 years.
We also learned different stages within each year. While some students might apply to Hocking College and commit to going there in the Fall, they might get accepted elsewhere in the last two months and not end up actually attending. Because of this, Hocking College does not consider committed students a "customer" until they have enrolled in Fall classes.
We took all of this information into consideration when setting up their Deals Pipeline, and were able to build them a functional, real-time view of where each student falls in their sales cycle.
Step 3: Set up and configure Sales Pro Accounts
One of the big draws of the HubSpot Sales Pro software was that it allowed the enrollment team to have a minimally invasive way to record communications exchanged with students.
Sales Pro offers many benefits, but best of all, it integrated seamlessly with their Google email addresses.
Other features of the software that appealed particularly to Hocking College included:
Email open notifications
Email click notifications
Email templates
Documents
Live Chat
Step 4: Set up and configure communication tools
Once we had set up the user accounts and pipeline, it was time to further develop the tools that were available to the enrollment team to engage students, ultimately streamlining their current processes.
NR Media Group worked with the enrollment team to develop several email templates that could be used throughout the process, eventually training the staff to create and customize their own.
Because the Hocking College enrollment team members were Sales Pro users, NR Media Group was also able to set up Live Chat Functionality on their website, allowing them to interact with students and answer any questions they might have. This is extremely beneficial to them, especially within a program page, where they can easily answer questions that a prospecitve student may have about a specfic major.
Additionally, NR Media Group provided support for the implementation and integration of an SMS platform that allows the enrollment team to connect with students via mobile device when they opt-in to communications with the college.
Step 5: Creating visibility for Administration through reporting
Hocking College also purchased the Reporting Add-On. This allowed NR Media Group to create a customized reporting dashboard for the college administration that gives them week-to-week visibility into the efforts of the enrollment team.
This report shows a variety of insights to the administration including:
how many calls were made
how many emails were sent
how many meetings were had
email performance
contact performance
new deals in the pipeline
new deals that are considered "won", etc.
This level of transparency has really benefited the organization because it allows administration to see employee performance at any given time. This also allows the organization to deeply analyze their enrollment efforts to determine what is working and what isn't.
Step 6: Train the team
The final step of getting the CRM up and running was the training.
Through a combination of on-site and web-based training, Hocking College was able to get up and running with their new CRM within 90 days of signing with NR Media Group.
---
---
Optimizing the Website for Conversion
After the CRM was up and running, NR Media Group's next task was to redesign the website, optimizing it for maximum conversion.
The Hocking College website that was previously developed by the internal IT team did not provide the user with a navigable experience.
Citing specific research on how Gen Z interacts with websites and colleges, NR Media Group completely redesigned the website, launching it on Monday, April 24, 2017.
The new website offers a plethora of conversion points throughout — with no less than two conversion points per page. NR Media Group was also able to enact a Lead Flows pop-up that is set to round-robin on all pages about Hocking's majors to increase lead conversion.
All forms are tied to specific workflows that automatically create deals and assign one of the enrollment team members to become the HubSpot owner of that contact. This ensures that every student receives some kind of follow-up from Hocking College.
Already Seeing the Impact
Hocking College is already seeing an impact in terms of student recruitment goals and it's creating immediate satisfaction for the internal team at Hocking.
The HubSpot CRM has allowed their Enrollment Navigators to streamline their processes, and create personalized messaging for students based on their browsing habits. The CRM has also given administration peace of mind through the reporting visibility that it offers.
Learn more about Hocking College's Digital Transformation by listening to Tim Brunicardi, Executive Director of Marketing, Public and Community Relations, on our weekly podcast, The Digital SkillsCast. Or listen below:
Impact on NR Media Group
The successful and (relatively) pain-free CRM implementation gave Hocking College's administration the confidence in NR Media Group for another year, and hopefully more to come.
Hocking College also allowed NR Media Group to really take a deep-dive into the experience of implementing a large-scale digital transformation in an industry that is typically very set in its ways. We were able to combine HubSpot and education in a way that we never would've expected.
We're still learning right alongside Hocking College about some of the challenges that come with the territory. However, the ability to fast-track the transformation at Hocking College gave us the knowledge and experience to enact such a digital transformation for more organizations within the education vertical. We're excited for the next education digital transformation that comes our way.