We've nearly reached the end of 2010.
And if you're like me, you may be in "strategic planning mode" for the next year of your business. It's funny that over the past years, some stuff has changed but most has stayed the same.
One of the things that I don't think will ever change is the importance of knowing where you stand against the other businesses, departments or people who compete with you. That can be tough information to visualize, but sometimes laying it all out visually creates the most clarity around your market position.
One of the most effective, yet simple, tools I use when working with clients or even on my own positioning is a strategy exercise that was taught to me by Artie Isaac many years ago.
Now, I get to teach you.
---
Don't miss out: How to Track Competitor Content Marketing
---
Positioning with Positive Opposites Comparison
The technique is called Positive Opposite Comparison. In this exercise, you will want to look for varying, but positive, traits of your business for benchmarking your competitive position. For the best results, don't over do it.
Select a competitive set of 2-6 businesses who you feel are your close competitors. You'll need to invest some time in researching those business and finding the common threads in your category. The Interwebz makes that part fairly easy. Once you have good notes, here are three easy steps you'll want to take.
3-Step Instructions
Step 1 - Write out a List of Your Business's Traits




Start by listing out as many traits about your business as you can think up. Each of these traits will ultimately describe the type of services or products you offer, or even the types of customers and markets you serve. For example, if you are a local coffee shop, one of your traits might be "locally focused."
The opposite then would be "nationally focused." My local coffee spot, Cup o' Joe Lounge, sits directly across the street from a Starbucks, which we know has locations all over the country. Each business would then fall opposite one another on the spectrum. Other examples related to a coffee shop might be "coffee only" versus "coffee and food," or even "customer sitting area" versus "no sitting area." Make sense?
You will need to come up with your own list, but once you have the relevant traits of your business, determining the opposites is pretty easy.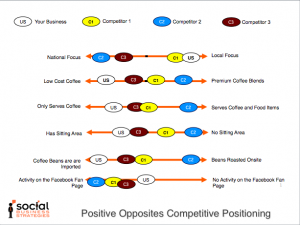 Step 2 - Lay Out the Traits Adjacently
Next, you'll want to set up the visual element for this exercise. There's a variety of ways to do this, so pick whichever is easiest for you. You can use a whiteboard or a simple sheet of paper to lay out each trait and its opposite. If you'd like to keep everything digital, download this PowerPoint slide that I've set up for you.
You'll want to arrange each trait adjacently on two separate poles, with a slide line positioned between the two descriptive words or phrases. The graphic on the right should help you get the idea, but feel free to leave a comment or tweet me if you get stuck.
Step 3 - Position Each Business in your Competitive Set
This is the fun part, and it works best as a collaborative discussion with the others who work in your department or business. Here's a side tip too: if you are going to turn this into a collaborative exercise with your team, it's always good to recruit thinkers from various levels and departments, since they may have different viewpoints to add to the discussion.
Begin by listing each of your competitors, as well as your own company at the top of the whiteboard, piece of paper or slide. Using simple initials works, but if you want to get fancy, logos are a nice touch. Start the discussion by positioning your own business since that is typically the easiest and where you will have the most accurate business intelligence. Once you've completed positioning your own company, use the data you collected to position each competitor on your list, one by one.
Remember that your business (and potentially your competitors) may not fit neatly at your polar opposite, but instead somewhere in the middle or at one of the left or right thirds. Make sure to discuss this in detail and place each business as close as possible to where you think they sit on the scale.
How To Use the Positioning Slide
Again, if you'd prefer to use the positioning slide, you can download it here. The ovals and slide lines at the top are stock shape graphics in PowerPoint. Depending on what version you are using, you may need to adjust sizes. To the side of each slide line is another simple text box with placeholder text.
Assign your business and each competitor an oval at the top. To keep things easy and clean, I use 1-3 letter initials. You can also indicate each brand by changing the color on the oval to match each company's main brand color.
As you work to position each business on the scale, select the oval and text box at the top and use your mouse or the key command, <CONTROL D> (<COMMAND D> if you're a Mac user) to duplicate each oval. Doing that will save you time and ensure that everything stays the same size as you drag each oval into position on your slider.
Drag and drop each oval to its position on the positive opposites scale. Pretty self-explanatory here.
Apply What You've Learned
Once you have completed the position exercise, you should have a very basic, but clean, visual that will give you some idea of where your business sits against your main competitors. You now can begin to look for key differentiators about your business that you may not be aware of or leveraging to full potential.
You will also begin to notice where you are exactly the same as your competitors, which can help you to plan ahead for more creative ways to create unique value in each of those areas.
And You?
Have you done this before? What questions can I help you with? Care to talk in the comments?