It's been an exciting few weeks for the Digital Skillscast and we've had some incredble guests who have not only mastered digital skills for their industry, but are also working as influencers to bring the message to others.
Last week marked our first true remote podcast recording. We talked to Dr. Mike Sevilla at DOYO Live, a digital marketing and design conference held annually in Youngstown, Ohio. Mike is family physician who was also an early adopter of social media. He was even named "The King of Family Medicine Social Media" by the American Academy of Family Physicians Congress of Delegates.
Mike believes that everyone should have access to family physicians and his great deal of content speaks to that in addition to other health topics. You can go back and listen to that episode and also watch the video on YouTube on Mike's channel.
I also want to give a shout out to Sean Dent, Mike's co-presenter in their session. He is an Acute Care Nurse Practitioner by day and also a blogger, podcaster, vlogger, and all around good guy.
Sean knows his stuff, too; some of his videos have gathed hundreds of thousands of views from folks in the nursing profession.
This week's guest wrote the book on that -- literally.
Amy Schmittauer - The Vlog Boss

Amy Schmittauer is a YouTuber, besting selling author, and a keynote speaker who has built a career by stepping in front of the camera and providing value to her audience with a personal touch.
After finding a position in the corporate world, Amy found her passion for creating videos. She soon turned her focus to her YouTube channel, building communities, and social media communications.
Amy produces content on Savvy Sexy Social, a YouTube series that is dedicated to helping you go after the life you want. The community has amassed over 3 million views and 70K subscribers from 179 countries. Her content has been featured in Inc, Business Insider, Columbus CEO, Mashable, Techcrunch, and more.

Amy's "edutainment" style has helped build her name into an internationally-acclaimed public speaker. From smaller stages in her hometown of Columbus, Ohio, to the bigger, brighter stages of places like Social Media Marketing World and HubSpot's Inbound.
About Aftermarq: A VIdeo Content Marketing Agency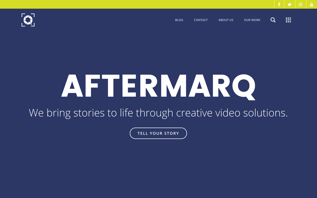 Amy has become an authority in digital marketing consulting along the way in addition to co-founding Aftermarq, a video content marketing agency.
Their focus is video while continually striving to provide their clients with top notch talent and the best creative strategies that are available. After spending seven years executing and consulting, Amy authored her own book, Vlog Like a Boss: How to Kill it Online with Video Blogging.
---
Amy didn't always plan on her current career path being the one she'd choose but isn't that how it always goes? She went to school for political science and while working for a fundraiser, she found a creative outlet - YouTube.

She began by documenting her life because that's really the only thing she had to talk about at that point. It's how she connected her world to what was becoming the social media marketing sphere. She realized that there was something here that many people, mainly businesses, needed. That's when she left her job and began a social media marketing company.
The Career of a Vlogger
We can't have a guest as interesting as Amy without asking her what a day in the life is like. But with a resume like her's, no day is the same. Sometimes she is waking up in a different city, preparing to speak to a crowd or to work with a client. But no matter where she is or for why she is there, she starts with taking out her camera to begin documenting what she is doing. As a vlogger, she has the ability to show her viewers what she is doing.
There are times when she produces a video which focuses on what she knows is a much-needed piece of content. She will just sit down, set up her camera, and start talking in order to be a resource to people.

Set yourself up for success by being in touch with your audience. What is relevant to them? What is going on in their lives around this time of year? Connect them to what you do by being relevant to them.
Vlog Like a Boss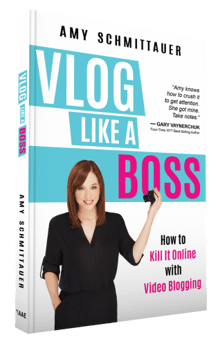 Vlog Like a Boss has made its way onto Amazon's #1 Best Seller list and is something that Amy self-published. She was able to work with a company that could guide her through the processes and logistics but was still able to own her own property like she intended. She gives credit her own community for pushing her to write it and then actually going out and buying it. A video audience buying a book? Doesn't really seem to make much sense considering they want their content delivered fast and face to face.

Amy's original plan was to write every morning for a certain number of months and the book would eventually be written. It didn't happen that way. Her normal schedule distracted her, travel came up, and things just got in the way.

Amy took three weeks off completely in order to finish writing. She was free from distractions to sit down and write her first book. She didn't leave Columbus to do this but changed things within her environment. Her apartment was good enough for her that if she just shut everything down, shift small things about her normal process, and got it done.

It shocked Amy how relevant being an author is today. Being able to get your ideas down on paper is so well respected and she didn't realize how much people actually wanted her to talk about herself even more. Not only did it assist in marketing, but her credibility improved. The number of clients and the size of the clients increased because being able to hand someone a book that contains a thesis has undeniable credibility.
---

She's also able to vet which clients are good for her to work with. She can hand them the book, have them read it, and then they are able to decide if it's right for them to work together. We all know that you can't work with just any client and Vlog Like a Boss has helped a great deal is weeding out bad potential clients.

So what's inside of it? Well, it's the manual on video blogging. It helps you plan who the person is that you are talking to, what you are talking about, and what they care about. It covers how to create content around that and creating your own viewer persona. That will help you discover the information and entertainment that they want from you so that you are able to plan and create your editorial calendar.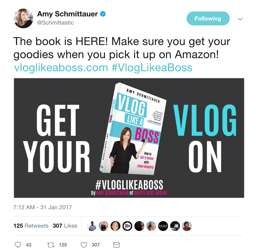 Amy also goes through her authority video formula because even though you can talk, there's a formula for what you should be doing from beginning to end to make the video an effective piece of content. Other things include how to choose a platform that is right for you and how to market yourself on social media. Once you create the content, you aren't done and you must continually market it and yourself.
How and Why Should People Vlog
Let's say that you want to start vlogging but your video marketing budget caps off at $500. According to Amy, that's plenty. If you've invested money is a decent phone, use that and spend the money on a light, audio upgrades, and editing software.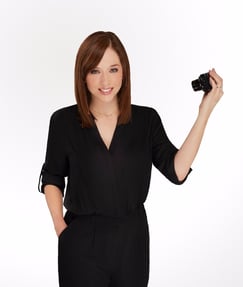 You would need even less if you're doing a mobile only vlog. There are vlogs that exist only on Instagram and Snapchat. If you can tell a story on a social network in a context in which people actually want to hear about it, then forget about YouTube.

Being a vlogger means nothing if you aren't comfortable with being the face of your own brand. Keeping the focus on what you are doing while completely change you. Amy only makes a video when there's something she wants to talk about. So when she talks to someone who is starstruck by her internet fame, she just brings herself back to that fact that they're genuinely interested in what she has to say. They know who she is because of her videos and the content within them.

But people aren't always so nice and the comments section of YouTube exists. Amy wants to remind you to remember what you do. Someone once criticized her for not speaking on being able to build a multi-million dollar business. Her response? It was along the lines of "That's not what I do. I teach people how to vlog like a boss."

She shows up with a purpose and that directly ties into how you come across on camera. She isn't talking to a person but she is talking to her camera lens and her confidence and knowledge just shine through. You don't have to be an expert but you have to have confidence in what you're saying.