Welcome back to the Digital Skillscast, our weekly talk interview podcast where we explore all of the angles of the "digital skills gap" with experts in fields that experience this gap firsthand. Most industries are now driven by technology, and so we look at how people's skills are evolving to be able to thrive in a world where software touches just about everything we do. We talk with educators who are doing pretty incredible things to keep up with the learning curve that technology requires.
In our last episode, we talked with Susan Tebben, News Assignment Editor at WOUB Public Media in Athens, Ohio about the relationship between journalism and technology.
Susan started to spread her wings as a mentor to journalism students that were coming out of the Scripps School at Ohio University. The progression was pretty natural, as WOUB is a practical learning lab setting for journalism students to gain experience in what they would be doing in their careers.
While the journalistic landscape is evolving, it's crucial to prepare students for how technology is impacting the environment. Journalism is always about adaptability. It's no longer about specializing in a beat or technology, its about studying what you need to get a job in an already cut-throat field.
Susan's episode is a good one that covers many aspects around the current state of journalism, so be sure to check it out.
This week, we're going to stay on the path of journalism. Our guest spent 23 years with The Associated Press, where he held a variety of editorial and organizational leadership roles at New York headquarters and in several other bureaus before heading into the world of higher ed.
Dan Day, Assistant VP of Communications at Princeton University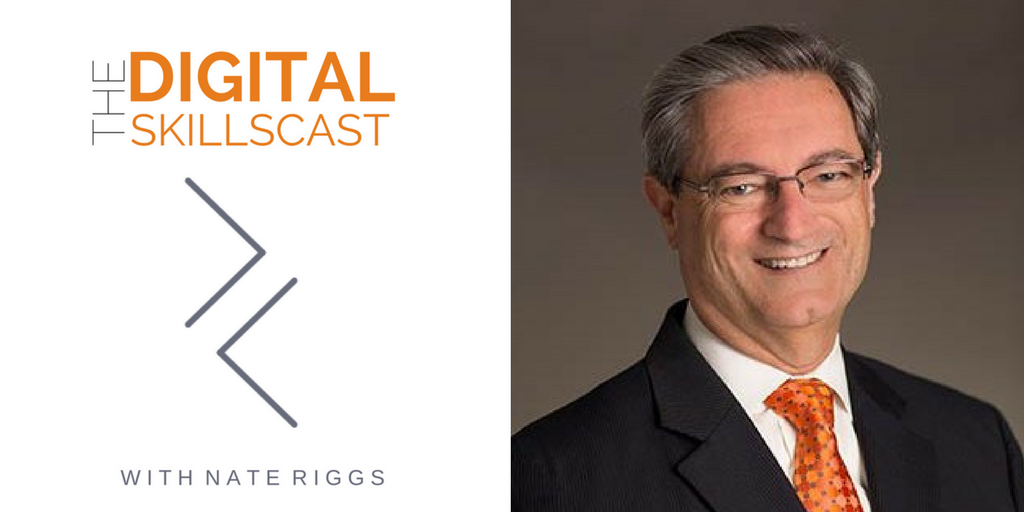 This week, we're going to look at technology in higher education impacts the way that we communicate in the field.
From Newsroom to Classroom
Dan started his journalism journey after earning his masters degree in journalism from Marquette University. He went on to spend 23 years at The Associated Press, where he held a variety of editorial and organizational leadership roles at New York headquarters and in several other bureaus.
Following his time at AP, Dan also worked as a reporter at The Daily Times of Ottawa, Illinois. and as director of interactive media/audience development and managing editor of The Modesto (California) Bee.
Outside of traditional work experience, Dan has been fully immersed in the journalism field. He was the past president of the First Amendment Coalition, a California-based non-profit that advocates for freedom of speech. Dan also served as a board member for professional and community organizations including the Society of Professional Journalists, the Radio and Television News Directors Association and the California Society of Newspaper Editors.
Dan eventually made his way to Princeton University, where he worked as the Director of News and Editorial Services for three years, before being named Assistant Vice President for Communications in 2015. Dan now oversees the Office of Communications and plays a leadership role in developing and carrying out communication strategies for Princeton.
Strategies in Practice

Not only has Dan been fully immersed in the journalism and communications fields for over two decades, but he put that to practice in his keynote at the Social Media Strategies Summit.
Dan's keynote took me back down memory lane and took a look at how digital medias have transformed.
One of his key points was around communicating value of higher education. With even Congress calling the value of higher ed into question, it's important to use the large audiences and platforms that we have available through social media to have important dialogues with students and other audiences.
This importance ties in with Dan's role at Princeton, where he is responsible for managing the Office of Communications, which handles University news, media relations, social media, branding and graphic identity.
The Impact of Technology in Higher Education Communications
Dan plays a major role within the larger communications team at Princeton, a team that relies heavily on using technologies not only to maintain their organization, but to effectively carry out Princeton's largely "web-first" content strategy.
This strategy is seen clearly just from visiting the Princeton website, where the News section is prominent. Princeton's social media outlets, online news outlets, as well as printed news are all carefully coordinated to maintain a consistent level of information, without being too repetitive.
One of the key parts of this consistency for Princeton is holding meetings with the people that are part of their strategy. From photographers and videographers to designers and web developers, it's important to have a face to face with your key contributors to make sure everyone is on the same page.
The most important part of using technology in higher education is knowing your audience, and curating your message to be effective on each specific platform that is being used. According to Dan, Princeton adopts a "townsquare" method with their website, where the site is the central information hub, with different pages (or "roads") that branch off for specific information.
With the ever-changing trends and technologies in social media, it's important not to just jump in on every new thing out there. Take time to evaluate the value of those new things and determine if they're the right fit for your brand.
---
The biggest takeaway from Dan's interview is the importance of technology in higher education. To effectively communicate online, institutions need to maintain a consistent and effective strategy across their social platforms.
Princeton does a very good job of using internal communication and heavily followed brand guidelines to help maintain their strategy, and it's important for brands to find what works for them.
Take a look at Princeton's website to see how they've executed their online presence, and be sure to check out the social media accounts page while you're there – it's a very cool way to engage regular website visitors with your social presence.
---