We shipped off to boston...again
We just can't stay away from Boston, or lobster rolls.
Last week, some of our team headed to the Social Media Strategies Summit. The conference focused on higher education social media trends and strategies, and had an amazing lineup of speakers, including our own CEO Nate Riggs. Interestingly enough, Nate was the only presenter that wasn't from a higher ed institution.
We didn't let the fact that we were surrounded by educators intimidate us, we embraced the fact that we were the outliers. Not only did Nate's content activation workshop get people engaged with a super cool custom worksheet we created; our booth got people talking as well.
---
---
Let me explain:
We took some pieces of our tech stack, some extension cords, and a lot of elbow grease, and created a landscape of higher education social media presences. You heard that right, we took every institution at the conference and showed them where they stack up against each other.
People were already coming to this conference to learn about how to better leverage social media, so why not show them how they were competing with other schools? Needless to say, it was a hit.
Read on to find out how everyone stacked up.
About the software we use

So one thing you should know about NR Media Group: We love RivalIQ and have been customers of this product for 4+ years.
Based in Seattle, WA., Rival IQ is digital marketing analytics software solution that provides on-demand competitive analytics related to your company's digital marketing presence. Analysis includes social media performance across six social networks, SEO keyword rankings, and website content.
Rival IQ's engine reaches out across the Internet, gathering data and content from multiple social channels, thousands of websites and SEO ranking systems. The software then analyzes and aggregates this data to deliver fast, interactive and easy to understand insights of what is happening both for your company and across your competitive landscape.
Key insights from rival IQ
1. Leverage Popular Events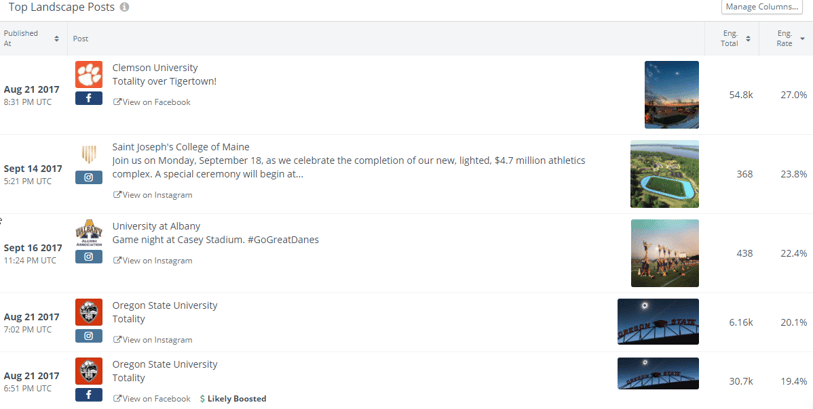 One of the most prominent insights that we learned from pulling this report was that higher education institutions can use widely publicized events to get higher engagement on their posts organically.
As you can see from the top performing posts by college, Clemson University and Oregon State University saw some of the highest engagement on their posts around the Solar Eclipse that happened on August 21, 2017.
By leveraging the popularity of that event, Clemson saw an engagement rate of 27 percent!
2. Instagram Is The Place To Be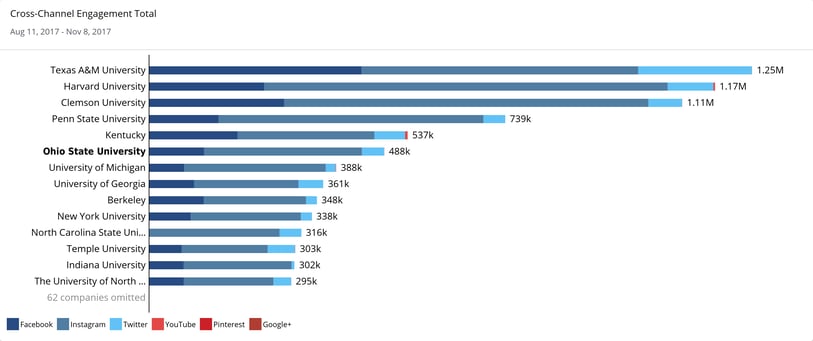 The second insight that we learned from this report is that according to engagement rates, Instagram is consistently out-performing the engagement rates of popular social channels such as Facebook, Twitter, and YouTube across the top 14 colleges and universities of this landscape.
Although Texas A&M is seeing the most engagement overall, Harvard is a clear leader if you're looking for some Instagram Inspiration.
3. Conversations happen on Facebook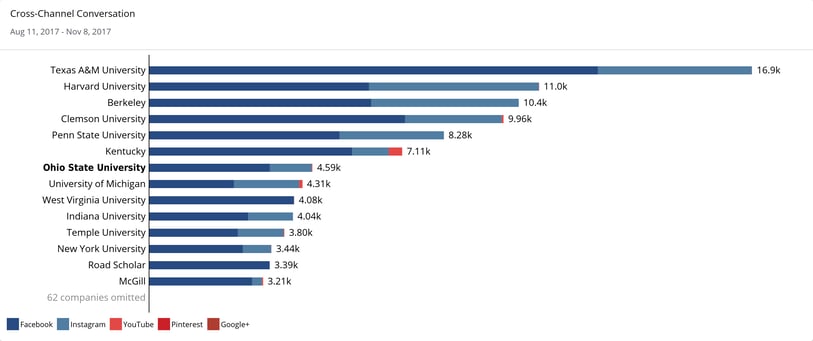 Despite there being a major shift of engagement rates from Facebook/Twitter to Instagram, the final insight that we discovered was that most conversations are still primarily happening on Facebook.
Texas A&M is seeing the most conversations happening on Facebook, with Instagram pulling a close second. Interestingly enough, University of Kentucky is seeing a small chunk of conversations happening on YouTube when compared to other schools..