Welcome back to the Digital Skillscast, our weekly talk interview podcast where we explore all of the angles of the "digital skills gap" with experts in fields that experience this gap firsthand. We talk with educators who are doing pretty incredible things to keep up with the learning curve that technology requires.
Last week, we talked with Tony Dobies, the social media director at West Virginia University. His work at WVU helped the institution re-think how, where, when and why the University engages with students on social. By changing the university's social presence, WVU became a "social first" university and is now the poster child for social transformation and just how powerful social media and education can be.
This week, we get back to our local roots as we talk with a Central Ohio school that has really gone above and beyond when it comes to getting education literally into the hands of their students.
Kelley Savage, Technology Coach at Liberty Union Schools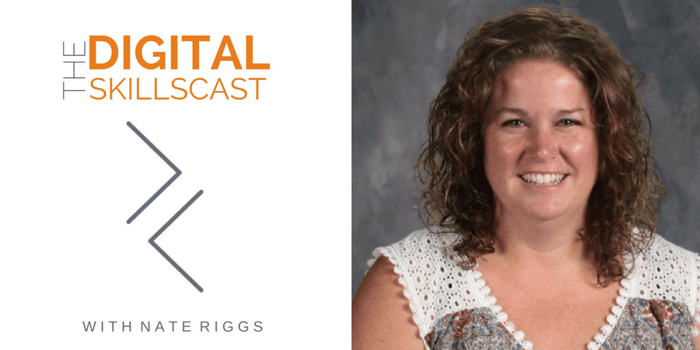 Kelley Savage started her career as a third grade teacher at Liberty Union-Thurston Schools in Baltimore, Ohio after graduating from Ohio University Lancaster with a Bachelor's Degree in Childhood Education and Teaching. While teaching, she pursued a Master's Degree in Instructional Technology and Design at Walden University. After finding an interesting in technology, she became an Instructional Technology Coach at Liberty Union Schools.
Under Kelley's efforts, Liberty Union became a Google Reference District earlier this year. This is a distinction given to schools that heavily use Google services and Liberty Union is the only district in Fairfield County with the honor.
Google invited the district to apply for Google Reference District status, based on the district's usage of Google content. This includes the school's heavy classroom use of Chromebooks, laptops that run Google software.
Chromebooks as Education Technology Tools

Liberty Union was able to earn the title of a Google Reference District because of their heavy use of Google technologies like Chromebooks in their education program. One of the biggest proponents of this usage is the fact that the school has a one-to-one program for students and Chromebooks. This means all students given devices to take home to use for school related activities.
Elementary students do not have personal devices to leave the building with but the school district is very close to getting that age group a one-to-one program as well.
The district started converting to Chromebooks from Windows machines about two years ago and the high school has been completely one to one for four years now.
Chromebooks are more user-friendly than most laptops and students usually have an easier time learning to use one because it's more similar to a smartphone interface.
Educating the Educators
Going Google wasn't easy. Convincing teachers that a laptop is faster and more efficient than paper and pencil was an obstacle the school had to face. The goal of the program isn't to replace traditional learning; it's to create a blended classroom.
In order to do this, Kelley had to play a major part in educating the educators in the Liberty Union School District. Teachers can't teach and fully utilize the Chromebook technology if they don't understand how to use it, so Kelley really embraced her role as a Technology Coach.
She worked hand in hand with teachers and administration to make sure the Chromebooks were being used effectively and efficiently, and in encouraging them to actually be able to learn from their students, who are typically more technology inclined than older generations to begin with.
Setting an Example
Liberty Union is making really encouraging moves as a Google Reference District, especially because of their location in Central Ohio. As a smaller school district, it's a major breakthrough to be able to show other small schools that it is possible to bring these technologies into the classroom.
Anyone who went to a school in a small town knows that there probably wasn't a lot of technological advancements or education, so Liberty Union is setting a precedence that will hopefully encourage these schools to embrace technologies and help their students close the digital skills gaps that come from these conditions early on.
---